Much the same as everybody else on the planet, I like feeling special.
I like being recognized at shops and restaurants I visit frequently. I like getting discounts for being a loyal customer. I like belonging to clubs and programs that say I'm an elite client. I like getting catalogs with offers for members only. I like getting personal notes from company execs who recognize my value to them. I like knowing that I matter. That I'm valued. That I'm recognized. That I'm... special.
When I was in Chicago last week, one of my big goals was to drop by the LEGO Store so I could pick up a V.I.P. Card for their new rewards program. I don't buy a lot of LEGO anymore, but their shiny new card makes me feel special just the same...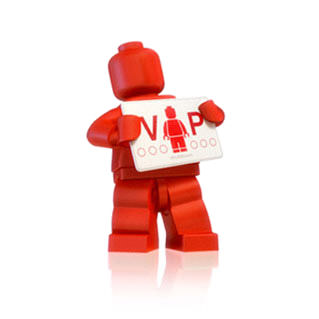 It's all an illusion, of course. Absolutely anybody can walk into a LEGO Store and get a V.I.P. Card.
And I realize full well that the minute I stop spending money at a shop they'll drop me off their "elite" list like a hot potato. And if I stop spending money at a restaurant, they'll forget I ever existed. And if I don't spend enough money to make a sales quota, I won't have membership privileges any longer.
Yes, it's all an illusion.
And I know it's an illusion.
But I don't care.
In a day and age where all too many companies just don't seem to give a shit about their customers, even fake recognition is better than no recognition at all.
Or so I keep telling myself...