That's okay... I didn't really feel like blogging tonight anyway...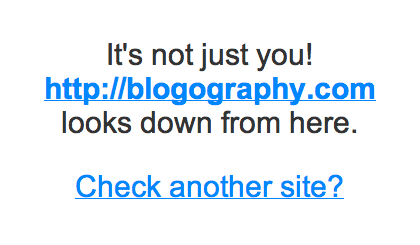 Every fucking time my site goes down, Media Temple has some new excuse as to why it's happening. Then they mark the issue "resolved" even though I know damn well another outage is just around the corner. This has been happening for YEARS, ever since they moved their shared-hosting accounts to a "(gs) Grid Server" architecture. And even though the "Grid Server" has been a massive, catastrophic bucket of FAIL! since day one, they continue to cling to it like some miracle is going to happen any day now, and it's suddenly going to be the stable, reliable hosting platform they promise in their advertising...

RELIABILITY? SERIOUSLY?!? It's this kind of delusional bullcrap that drives me bat-shit insane... even more so than the outages themselves. HELPFUL HINT: GRID SERVER DOES NOT WORK! IT NEVER HAS! Even when it's running, it's still slow as shit... sometimes to the point of being unusable. And lest we forget that Media Temple offers NO BACKUP SERVICE. That option was removed from my control panel when I was moved to the "Grid Server" and has never returned (it was promised for a while, but now this critical service which even the cheapest web hosting companies offer as standard equipment has been forgotten). So on top of being unstable, unreliable, and unresponsive, Media Temple hosting is also unsafe.
It's everything you dream of in a web hosting company!
I am so sick and fucking tired of Media Temple treating every new incident as an individual problem that can be checked off as "fixed" when the Big Picture is that their "Grid Server" hosting sucks ass and will likely NEVER be fixed. On the contrary, things just keep getting worse and worse as the problems become more and more frequent.
I have just over six months of my contract before I can walk away from Media Temple's busted-ass bullshit hosting. I am literally counting the days...
Hopefully I can last this long so I don't end up losing all the money I put into my contract.