This morning I was awakened by crippling leg cramps. They were so severe that even after they subsided, I was in excruciating pain. Just walking was an exercise in agony. With no other option, I took some industrial-strength pain-killers and spent most of the day in a drug-induced haze. Sure my work productivity took a hit, but there are certainly worse ways you can spend your time. Like screaming your head off because your legs are wracked with stabbing pain.
So tonight I have the unenviable task of trying to catch up with all the work I couldn't do during the day. It's difficult, because I've got a lot of television stacked up on my DVR that needs to be watched.
Alas, I only managed to find time to watch the season finale of The Middle because Betty White had a guest spot...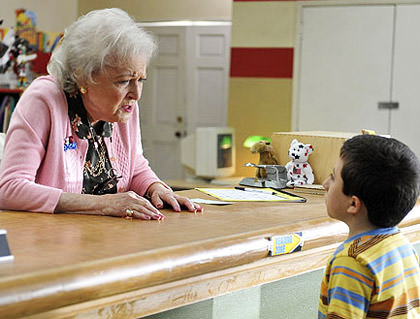 To the surprise of nobody, she was brilliant as usual.
This time Betty played "Mrs. Nethercott," a school librarian who has a mean streak when it comes to Brick (the Heck's youngest child), who has checked out 31 books that he hasn't returned. Mrs. Nethercott is threatening to have him held back in the 2nd Grade until he returns all of them, thus begins Brick's quest to find the books and make it to the 3rd Grade.
The show is usually pretty funny, but Betty definitely kicks it up a notch.
Now I guess I really should get back to work.
But first... PIZZA!!