The Hilton SeaTac Airport charges $14.95 for internet. I guess I can post this tomorrow, because Hilton can suck it.
Today is a day where the entire internet is celebrating a movie so astoundingly brilliant... so wonderfully imaginative... so monumentally game-changing... so vastly superior to everything that came before... that it redefines what cinema entertainment means.
I am talking, of course, about MacGruber, from which I just returned.
This was the film I was most looking forward to this summer, and it did not disappoint. It was funny and action-packed from start to finish. Kudos to Will Forte and Kristen Wiig for their fantastic performances, and welcome back to comedy Val Kilmer! Of course, I like MacGruber on Saturday Night Live, so I'm probably biased.
Coincidentally, today is also the 30th anniversary of one of my favorite films of all time: Star Wars: The Empire Strikes Back...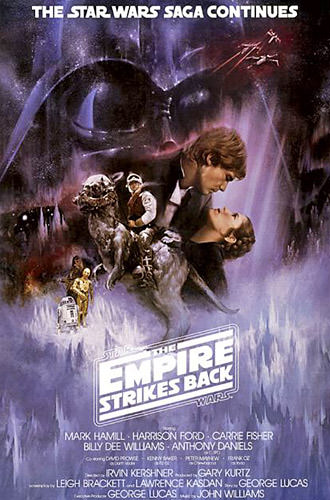 I never saw the original Star Wars in an actual theater until the re-release in 1978. Instead I saw it at a drive-in with some neighbor kids. I, of course, loved the film and became obsessed with it in whatever ways were available to be obsessed with it back then. You couldn't buy VHS tapes until later, but you could buy outrageously expensive snippets on 8mm film. And then there were the books, magazines, posters, and all the other crap an 11-year-old simply must have or else they'll die.
By the time Empire was released in 1980, my Star Wars mania was at a fever pitch. The idea of seeing the sequel on opening day was too much to resist, so a friend and I got dropped off at the theater so we could wait in line for entirely too long and be among the first to see it. The time spent was, obviously, worth it. The Empire Strikes Back is easily one of the best films ever created, and holds up on all counts to this day. As a movie, that alone is remarkable... but a science fiction movie?!? Magic.
If I was obsessed with Star Wars, I became positively stupid-insane over Empire. It pushed the Star Wars envelope in all directions, and has some of the best dialogue quotes ever to hit the silver screen in ANY genre (I can only guess that this is because George Lucas didn't write or direct it... if only we were so lucky with the prequels). My imagination wasn't just captured by all the amazing things the film offered up, it was blown away never to return.
Once you here those immortal words... "Luke, I am your father" you don't have much choice but to be blown away. Screw The Sixth Sense, THIS is the ultimate twist ending in modern cinematic history.
Even though I was eventually let down by the follow-up effort, Return of the Jedi, my spirit was never dampened. Empire was simply too good to ever die. Toss in all the Ewoks, fart jokes, and other stupid crap you want, it doesn't matter. Once you've learned the ways of The Force from Yoda, there can be no turning back.
Star Wars is in your heart and mind forever.
I know it is in mine.