Home at last for Bullet Sunday! There's nothing I really want to blog about today, so I decided to take one of the "30 Days" memes going around and just blow through the whole month in one sitting...
• Guilty pleasure. Re-watching old television shows on DVD. I just finished Veronica Mars (again) and The West Wing (again), and am now starting up with Alias (holy crap that show was amazing in the first two seasons!).
• Something that inspires you. Doctors Without Borders.
• The five songs you would have with you on a desert island and why. Probably five songs that are kind of bittersweet and ironic... If You Were Here by Thompson Twins. Pictures of You by The Cure. Every Day is Like Sunday by Morrissey. The Way It Used to Be by Pet Shop Boys. I Wish I Cared by a-ha. If I could have a sixth, I'd pick Mercy In You by Depeche Mode, just because I love it.
• What you imagine paradise to be like. Maui.
• A thank you letter to someone who has changed your life. "Thank's for stopping by my blog, dear reader!"
• Earliest thing you can remember. Playing with toys at grandma's house.
• Favorite cover of your favorite song. My favorite song hasn't been covered (that I know of)... but I do like Peter Gabriel's Solsbury Hill as covered by Erasure.
• Someone you think would make a good president. Apple Computer's Steve Jobs. No joke.
• Five things you want to see change. 1) Miracle Whip needs to go back to the original oil-based recipe because the newer water-based recipe sucks. 2) Sarah Palin needs to shut the hell up, as she is destroying any hopeful future of women in higher politics with her never-ending stupidity. 3) If television networks and record labels aren't going to make their shit available for purchase, they need to stop whining about people stealing or trading it. 4) FOX News needs to stop claiming that their coverage is "fair and balanced" because it's just as biased as all the other crappy news networks, if not more-so. 5) Blind hatred needs to be seen as antiquated thinking and ridiculed at every oportunity.
• A dream you had this past week described in detail. I don't have dreams in the way most everybody else does.
• Favorite picture ever taken of yourself. I don't like ANY photos of me, so YOU pick. I do like photos of me where I'm with my friends though...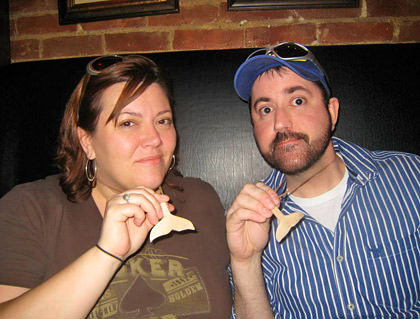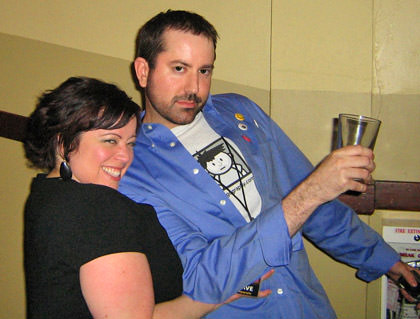 • Your favorite musical artist's life story. Though I'm not a huge fan of Shania Twain, her story of fighting her way out of abject poverty to become a major star is pretty inspiring. Kind of like Dolly Parton.
• A memory that never fails to make you laugh. Just about anything from my college years.
• Best mashup you've ever heard. I don't generally like mash-ups because I usually have too much respect for the original music. That being said, I thought this mashup with Depeche Mode and Madonna was pretty brilliant...
• A moment, phrase, or song that has changed your life the most. My favorite phrase is a quote from The Adventures of Buckaroo Banzai Across the 8th Dimension that's pretty remarkable when you really take a minute to think about it... "No matter where you go, there you are."
• Something that you want to do within the next five years. Visit Antarctica.
• What you want to remembered for. Existing.
• A picture that makes you feel. There are many. This one of Rosa Parks is a favorite...
• A passage from a book that has touched you. The one book that has influenced me more than any other is Illusions by Richard Bach. Its every page is genius. But if I had to pick one passage from it that has touched me most, it's this one: "Argue for your limitations and sure enough, they're yours." Everything is possible.
• A band that you immediately liked and the song that made you like them. Depeche Mode. Just Can't Get Enough.
• Your favorite medium of art. Oils on canvas for others, watercolors on paper for me.
• Someone you would give your life up for without question. Batman.
• Most awkward first impression you feel you've ever given. When meeting a blind-date once, I jokingly asked her how she felt about dating serial killers. It didn't end up being as funny as I had thought it would.
• Something you did as a child that other people remember you for. Being the most adorable baby ever...
• Something you would do if no one stopped you or if you knew you wouldn't fail. Absolutely nothing. Doing nothing is the Holy Grail for me.
• Your definition of love. Shoelaces.
• Your definition of the meaning of life. Making the lives of others better.
• A moment you remember being completely happy in and a description of why you believe you were. What is your definition of happiness? I spent the weekend with my sister, and was totally happy most of the time. Probably because I was drunk most of the time. So I guess my definition of being happiness is being drunk.
• What you live for. New experiences. New people. New adventures.
• Ways you believe you have grown over the past thirty days. Even after looking back over my entries from the past 30 days, I have no idea. Except that every day is an opportunity to learn and grow, and I hope that I have.