It's Bullet Sunday and, if I remember to hit "publish" instead of "draft," then maybe it will actually appear on Sunday.

• Hostess. One of my favorite childhood treats was Ding Dongs snack cakes. But since I became a vegetarian in 1988, I haven't been able to eat them because Hostess fills them with DISGUSTING LARD!! I still miss them though, because nothing quite compared to peeling off that foil wrapper to get to the chocolatey creamy goodness inside. Anyway, yesterday when I was shopping, I noticed that Ding Dongs are no longer wrapped in foil. They're wrapped in DISGUSTING PLASTIC!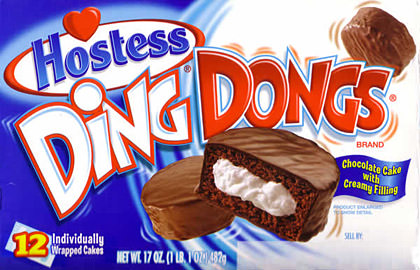 I refuse to eat DISGUSTING LARD, so I can't say for sure... but I bet they don't taste as good without the foil wrapper.

• Dixie. I was very sad to learn that Dixie Carter passed away. As Julia Sugarbaker on Designing Women, she had some of the funniest moments on television, and provided some clever insight on events of the day. They don't write them like that anymore, and now that Dixie Carter is gone, they won't play them like that anymore either...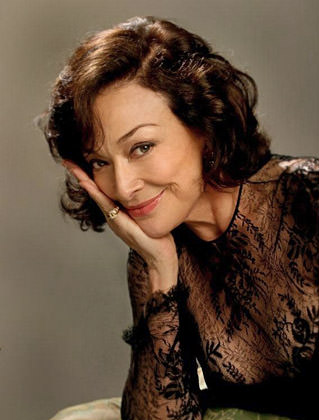 She will be missed.

• Lust. And in other sad news, Seattle's "Lusty Lady" is closing! I've only been once, but it was a peep-show experience that lasts a lifetime. Believe it or not, many consider the most entertaining part of the place not to be the naked women on the inside, but the clever puns on the marquee outside...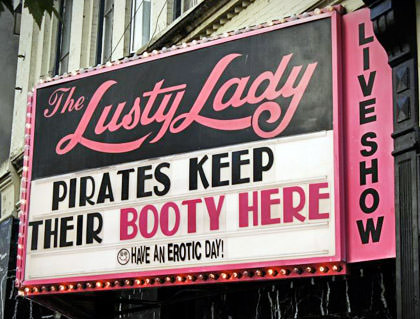 Photo by PhotoCoyote from the Lusty Lady Flickr Pool.
Ah, if only I could make it to Seattle with a roll of quarters just once more for old-time's sake! The Lusty Lady... she will also be missed.

• Palinesque. About the ONLY benefit of Sarah Palin's never-ending stupidity still being in the public spotlight would be Tina Fey popping up every once in a while with her flawless parody of it. Well, actually her parody of Palin's parody of Marge Gunderson, but still, amazing. In any event, Fey totally nailed it once again with last night's hosting duties on Saturday Night Live...
On one hand, it would be heaven for Palin to run for president in 2012... the comedy gold that such an undertaking could provide would be epic. On the other hand, she's set back women in politics by at least a decade, and it would be nice to have a fully-functional woman enter the next presidential election.

And on that hopeful note for the future, it's time for Oreo Cookie dinner.