Today was a glorious day in Prague, and so I took to the streets early so I could snap a few photos.
I ended up taking 537. Most all of them keepers.
The problem with Prague is that you start out all excited because everything is so pretty. It's like "ZOMFG! That building is so pretty! So you take a photo, walk 100 feet, and then "ZOMFG! That building is so pretty! Then another 100 feet, then another, then another... and just when you think that Prague will run out of pretty buildings, you suddenly realize that you've walked two miles and that Prague will never run out of pretty buildings, so you just give up in frustration.
I did go back and take a photo of the Hard Rock Cafe in daylight, because it is a very pretty building...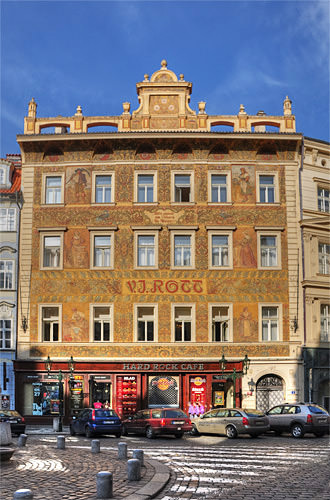 But they all are, really...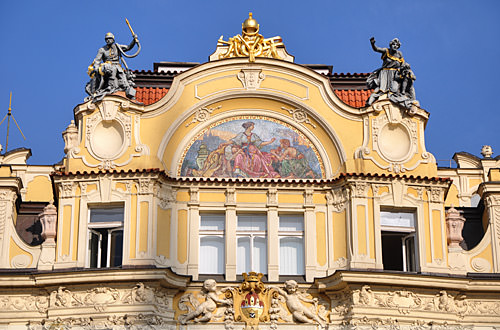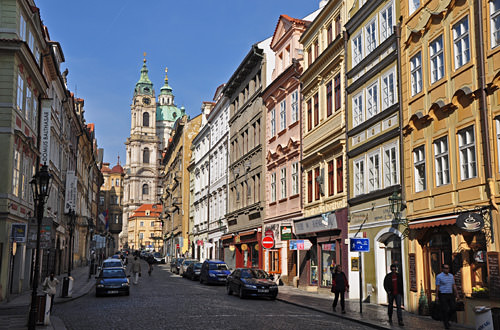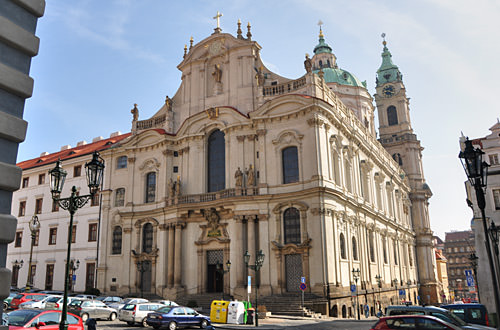 Even the clocks are pretty...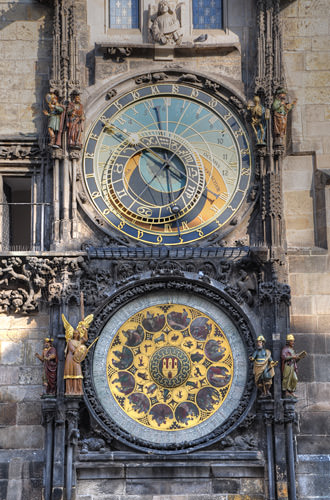 I'm sure that the Pooferflargen Museum is pretty, but I didn't really feel like looking at a bunch of "sex machines" before lunch...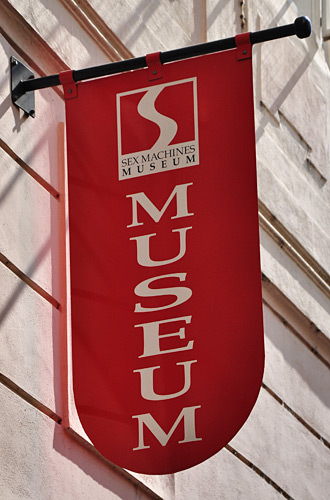 Speaking of pooferflargen, Prague seems to have a disproportionate number of naked men statues. You'll be walking along minding your own business when WHAM! Some statue guy is hanging out all "How you doin'?"
But it's not like you have to worry about it killing your appetite, because Prague restaurants do that all on their own...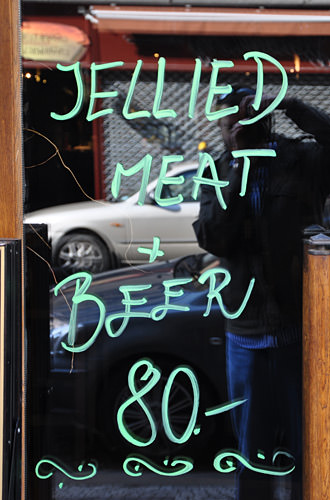 All I can say is that it had better be a LOT of beer, because I can't imagine there being any circumstances that I'd want to eat "jellied meat" unless I was very, very drunk.
After my non-jellied-meat lunch, I decided to walk across Charles Bridge so I could visit Prague Castle. It's a really cool bridge that's flanked with creepy-awesome statues...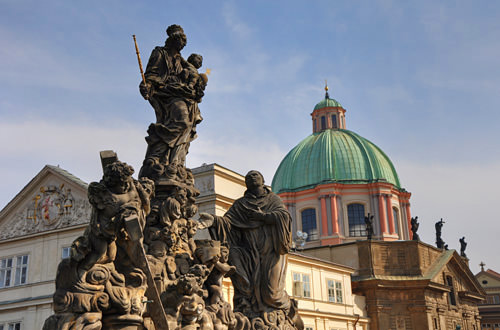 But those statues pale in awesomeness compared to a statue that hovers above Prague Castle's main entrance gate...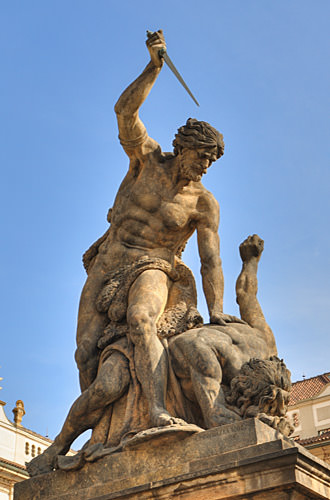 It's like the city of Prague wants to be very clear that not only will they cut a bitch if somebody pisses them off, but that they are more than happy to stab people in the back when they do it. That is so shark-extreme I just can't stand it.
Prague Castle is dominated by the St. Vitus Cathedral. It's a very nice church, but pretty much like a lot of the other large gothic churches I've been in throughout Europe...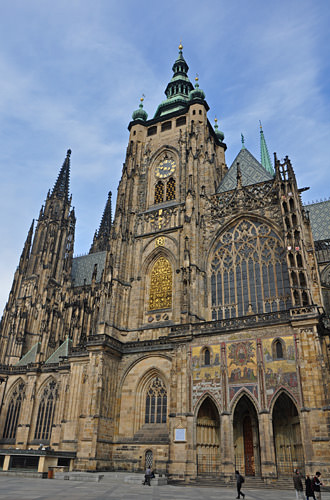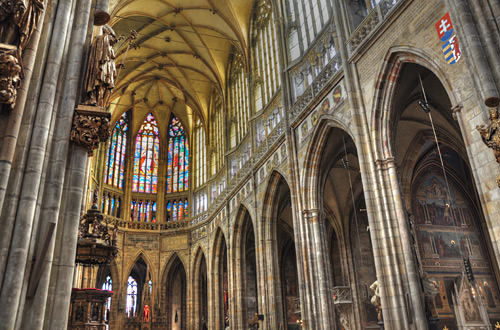 After walking fifty miles cataloguing the pretty buildings of Prague, I decided to go back to my room so I could take a Special Pill to keep my legs from falling off before I headed out again for sunset. I figured I'd take a tram to Petřínská Rozhledna (Petřín Lookout Tower) and snap a few photos of the city at sunset. It was a great plan, except the funicular tram that goes up the hill was out of order...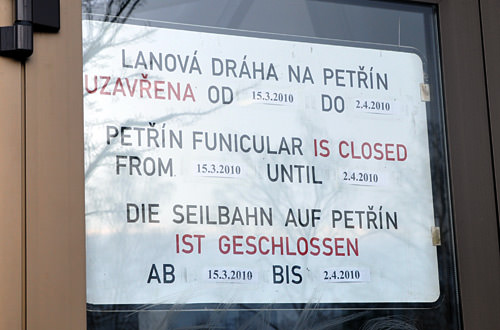 Which meant that I had to walk another fifty miles uphill and THEN climb 299 steps up the tower. I don't know if it was all worth it, but I did get some pretty pictures...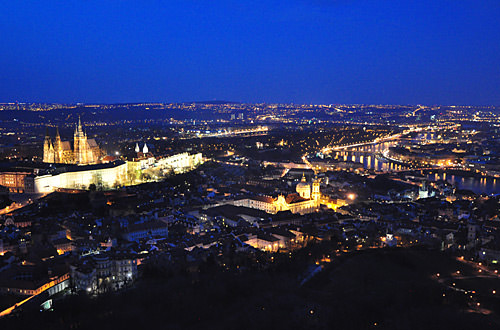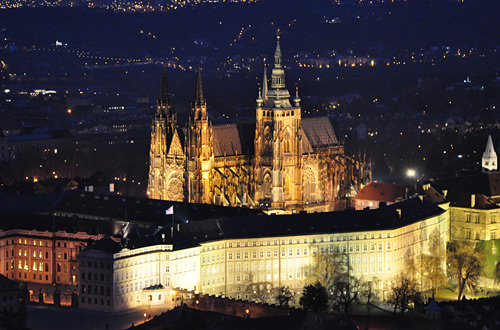 And then came the real challenge... climbing back down the hill.
At night.
With no lights.
I could barely see anything, and ended up having to use my iPhone to illuminate the trail a couple times. Not that you are ever confident which trail to take, because they're all unmarked (of course). I ended up removing the memory card from my camera and buried it in my pocket so if I were to survive being raped and stabbed on the unlit trail, I'd at least have my photos to show for it.
But I wasn't raped or stabbed, so I stopped by "Mystic Pizza" (!?!) for dinner. I remembered seeing it earlier in the day as I was climbing up to Prague Castle...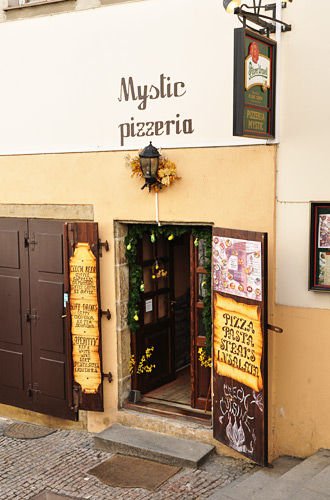 Now, up to this point, the weather had been fantastic. Clear skies and nice temperatures. But when I left the pizzeria, a thunder & lightning storm came out of nowhere and unleashed a torrent of rain. The jacket I had on wasn't exactly waterproof, which meant walking the fifty miles back to my hotel while getting soaked to the bone.
Checking out the weather forecast, it's supposed to pour buckets all week long. I know I should be upset about that, but after being so incredibly lucky with the weather today, I can't find it in me to be unhappy about it.
Besides, I'm sure Prague is equally pretty in the rain.