February is a pretty dead month for blogging because all I ever do this time of year is work. Even I don't find that to be entertaining, so I have to scrape the bottom of the barrel to find something I can write about. Fortunately, I have a Twitter account to steal from, which is about as bottom of the barrel as you can get.
Of course, even Twitter isn't the best source of material right now, as I usually ignore it so I can Get Stuff Done. But every once in a while I have a free minute while I'm on the phone or waiting for a 3-D image to render or whatever. Then I can wax poetic to the Twitterverse with my usual brand of madcap insanity. If you already follow me on Twitter, then this can be considered a "best of the worst" summary. If you don't follow me on Twitter, then boy are you in for a tweet!
Errr... I meant treat.

Sometimes I share health tips and free medical advice...


Sometimes I feel like going full-on political...

Sometimes I say things that will incriminate me in a court of law...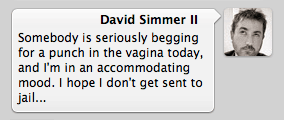 Sometimes I share my email with everybody...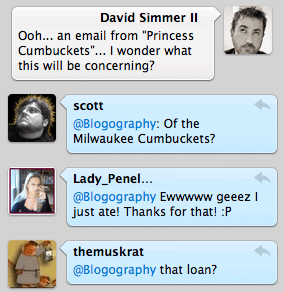 And I am happy to follow-up with any updates...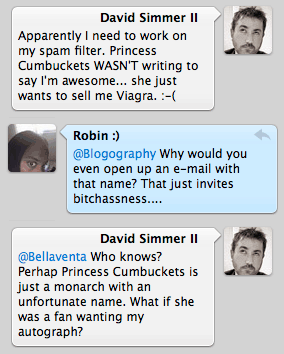 Sometimes I share my frustrations with topics of the day...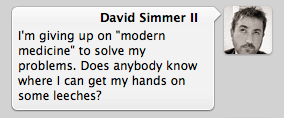 Sometimes I offer helpful suggestions, like when John Krasinski from The Office was rumored to be a possible candidate for playing Captain America in the new movie, I had the perfect idea for casting Cap's sidekick "Bucky"...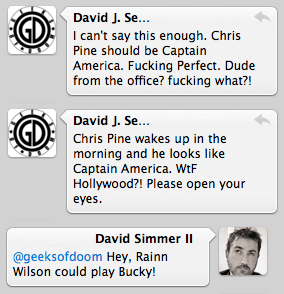 I mean, seriously, they make such a great pair as Jim and Dwight on The Office that it could totally work. Except I got a few nasty comments, so I had to put my Photoshop where my mouth was...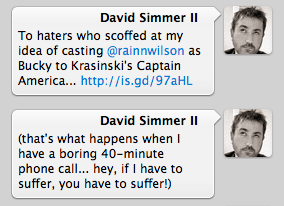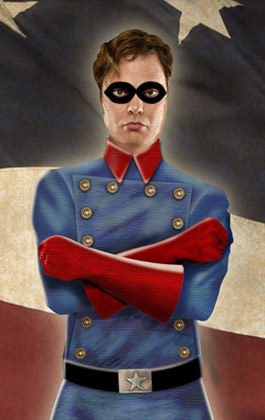 More Twitter madness follows in an extended entry...

Sometimes I vent my frustrations with comic book promotions...
Because, seriously, first there was Green Lantern and his green power ring. Then there was Sinestro and his yellow power ring. Then they said Star Sapphire was actually using a violet power "ring". And now you've got an entire assortment of blue, orange, red, indigo, and the rest. It sucks because then you have to collect all the various colors to complete your swag collection...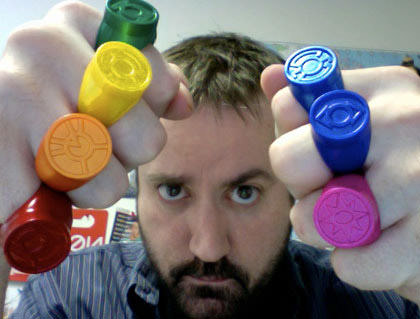 I'm lucky enough to have a very good friend who has helped me fill-in the colors I'm missing, but NOW they say they're coming out with a White Lantern ring?!? This is bullshit...
I was only joking about "Infrared Lantern" and "Ultraviolet Lantern," but I'm guessing that's what is coming next. Nothing quite like watering down the uniqueness of your superhero until he's lost in the shuffle. Bleh.

Sometimes I just like being a whiny little bitch...


During the opening ceremonies for the Olympics, I tweeted a lot because NBC STUPIDLY TIME-DELAYED THE OLYMPICS and everybody had gone to bed by then and nobody was reading Twitter to even care...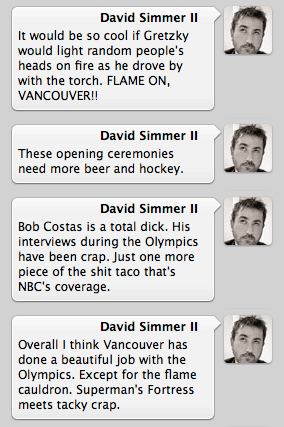 And, was injecting commentary of my own during the Olympics from time to time...
Because, seriously, the guy recovered from a catastrophic accident, and ended up taking the gold medal... it doesn't get much more inspirational than that.

And sometimes I just need to sum up my life at a certain point and share it with the world...

Which could pretty much sum up this blog entry!