When traveling during the winter months, I always try to leave a day early to make sure any weather delays or other problems don't screw up my schedule. It's a necessary evil that I usually loathe because the last thing I want to do is be stuck traveling an extra day if I don't have to. But when traveling to Atlanta I never mind so much because there's some really good blogger friends that inhabit the area. Since I didn't have any travel problems, this left me all day to hang out with the gang and do some really cool stuff. Sweet!
The day started out at the High Museum to see a special exhibit by one of my absolute heroes... Leonardo Da Vinci. His works have such profound meaning to me that I never pass up an opportunity to see an exhibit, and this was almost too good to be true. Even better, Kevin, Beth, Diana, and Muskrat were kind enough to accompany me (after a lecture on how we couldn't point to anything with an ink pen because the pen might explode on the priceless artifacts... if we simply must point at something with a writing instrument, golf pencils would happily be provided). I thought the exhibit was wonderful, featuring some incredible pages from Leonardo's sketchbooks...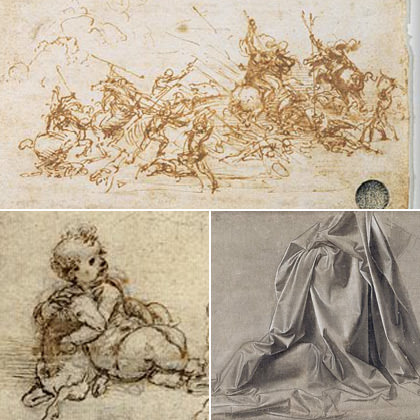 If you're in Atlanta, it's well-worth a stop. The exhibit runs through February 21st.
After lunch in Buckhead, Kevin, Beth, and I headed back down to the Alliance Theater for a show by Chicago's Second City comedy troupe called "Peach Drop, Stop, and Roll." It's a highly-Atlanta-specific performance that shows no mercy in ribbing some of the city's most famous (infamous) places, people, and traditions...
If you're an Atlanta local looking for a laugh, the show has been extended to December 27th, and is worth a look.
Since it's impossible to have too much to eat when visiting Atlanta, we decided to go eat miracle French fries at Five Guys back in Buckhead since there was an establishment next door that has a Coke Freestyle Soda Fountain Machine. This miraculous piece of Epic Win is able to custom-mix over 100 soda flavors on demand, including my beloved ORIGINAL COKE WITH LIME!!
After our pre-dinner, we headed up to Maggiano's Little Italy for real dinner, where we met up with Julie, Heather & Ty-Man, and Muskrat & Deb. A fantastic time (and fantastic meal!) was had by all, though not one of us seemed to think of taking a photograph.
The reunion was made bitter-sweet by the absence of some dear blogger friends, including Anissa, who has been in the hospital since Tuesday after suffering a massive stroke. It was less than four months ago that she was sitting right next to me... laughing along with everybody and stealing a bite of my fried macaroni & cheese balls...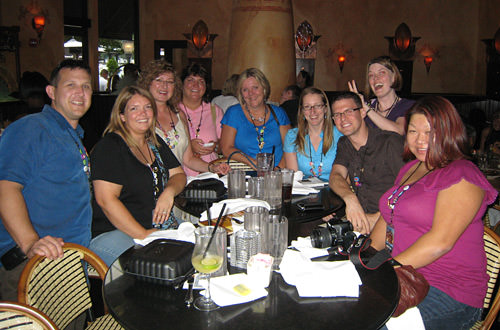 Anissa, looking lovely in fuschia on the far right.
For anybody looking for news on how Anissa's doing, her husband Peter has been posting updates over at Hope4Peyton. There was also a nice piece in yesterday's Atlanta Journal-Constitution (thanks to Father Muskrat for the link). All my best wishes to the Mayhew family for Anissa's recovery.
And now I'm back at my four-star College Co-Ed Party Hotel blasting Thompson Twins in my earbuds to drown out the hard-partying in the next room and down the hallway. I requested a late check-out tomorrow so I can (hopefully) catch up on the sleep I missed from last night and tonight. I don't know if that's going to work, but I can only guess everybody will take off for church in the morning to leave me with some peace and quiet for a while.
Fingers crossed.