It's Bullet Sunday from a surprisingly cold and unexpectedly rainy section of rural Georgia!
• Bring on The Hate. Just like Friday night, Saturday evening was a non-stop party on the 11th floor of the Hilton Atlanta Hartsfield Airport. No less than six people were laughing it up in the room to the right of me. People were having sex in the room above me (at least I hope that's what it was). The hallway was filled with drunken douchebags until 2:00am. And doors kept slamming into the early morning down the corridor. Sleep was next to impossible, so I begged the front desk to give me a late check-out of 2:30 so I could (maybe) take a nap and not spend my first day of work as a zombie. I then spent my evening listening to my iPod at full volume. It's at times like this I really hate people.

• As God Intended. I had read about Google's wonderful gift of Free WiFi at major airports across the USA, and was happy to discover that Seattle was among them when I flew out this past Friday. What I was not prepared for was that this was going to be a gift that keeps on giving...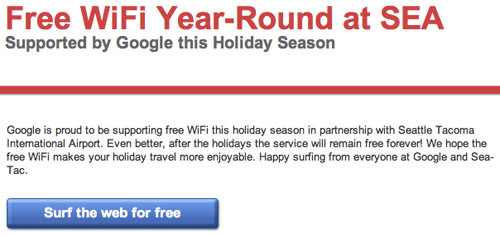 That's right... apparently Google is going to continue the free internet at Seattle-Tacoma International INDEFINITELY! This is fantastic news, because I stopped paying for internet access at airports once I got my iPhone, but miss being able to use my laptop. Thanks, Google!

• TripIt Social. I think I've mentioned a couple of times how my frequent travels are made much, much easier now that I use TripIt to manage all my travel plans. I simply forward all my confirmation emails to TripIt, and the free service automatically builds my itinerary and keep all my information together in one place. It's brilliant, and has quickly become an indispensable tool. Things got even better when they launched a free iPhone companion app. And I was in heaven when they launched a "TripIt Pro" version which adds flight monitoring and other goodies for a nominal annual fee. Genius!
As I have become hopelessly reliant on TripIt, you can imagine my horror when I found the latest update to their iPhone app crashed every time I launched it. I wouldn't have minded so much if I was using the free version, but I am a paid TripIt Pro member, and expect better. I then Tweeted my frustration thusly...

Not ten minutes later, somebody at TripIt had seen my Tweet, tracked down my email address, and emailed me a solution to the problem (delete it off my iPhone and reinstall it). Things worked perfectly after that, and then I noticed that there was another update at the iTunes Store to solve the problem. Odds are that TripIt fixed the problem immediately, but Apple's hideously slow draconian "approval" process meant there was a long delay before iPhone users could actually get their hands on it. In any event, way to go, TripIt! it's nice to know that companies are starting to make use of social media for GOOD instead of the EVIL bullshit I've become accustomed to (oh how I hate Twitter spam!).

• Dungeon Master Revisited. One of my all-time favorite games is Dungeon Master, which I played constantly on my old Atari ST computer. It was fantasy role playing at its best, and did an incredible job (for the time) of immersing you in another world for hours of adventure. I spent years trying to find a worthy successor, but none came. As computers got faster and graphics got better, flashy animation and complex battle mechanics seemed to take precedence over gameplay. This wasn't nearly as much fun for me, as I preferred the elegant simplicity of the original. So while I can appreciate terrific games like Dragon Age, nothing that has come out since has been able to recapture those heady days and nights I spent engrossed in Dungeon Master back in the late 1980's.
Until now. Enter Undercroft for the iPhone...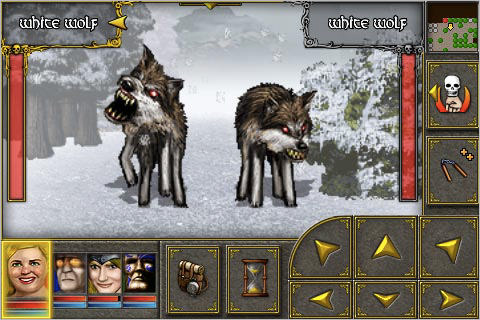 It's so similar to Dungeon Master as to be spooky, but definitely manages to strike out in a direction all its own. I am having more fun with Undercroft than I've had with a video game for ages, and the fact it fits in my pocket is just icing on the cake. About the only thing I don't like about it is the idea that it's eventually going to end. I can only hope that the developer, Rake In Grass, is game for a sequel. If you've got an iPhone or iPod Touch, you can get a taste of the fun for FREE with the Undercroft Lite Demo.

And now it's time to get my caffeine on so that I can stay awake all night long for work. Hopefully my brain will not turn to moosh before the job is done tomorrow morning.