I've been working since 4:00am. I will undoubtedly be up working until midnight. This is becoming a daily thing during this time of year, and I haven't had a chance to even think about bullets on this Bullet Sunday.
Except that's not quite true. I have been thinking of practically nothing but bullets today... it's just that they're not bullet points. Instead I've been agonizing over the senseless killing of four Lakewood police officers in the outskirts of Seattle this morning. They were gunned down while at a cafe in what appears to be a robbery gone violently wrong.
Tonight their names were released, which is difficult because names give them families and friends and people who care about them and everything else that people with names have. But they're names you don't know, so you can still be saddened yet mercifully detached. Even when you read that they all have children.
And then their photos were released, which is even more difficult because now you can put a face to the name and they become real to you... even though they're strangers. Strangers who put their lives on the line to protect and serve people who were mostly strangers to them.
I look at these photos and I am profoundly sad. Who can say how many lives they've touched? Who can say how many additional lives they might have touched if given the opportunity? Not just as police officers, but as human beings? These are the questions that will keep me awake at night. These are the faces that will haunt me with the sorrow of so many possibilities left unanswered...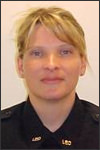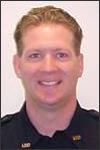 I'd cry in the hope that it would take away my sadness, but once I started how could I stop?
The horrors of this world seem never-ending.
It's terrible when anybody's life ends in violence. But when it's somebody whose life was dedicated to protecting people they don't even know... well, I look at these photos and I am profoundly sad.