Happy Black Friday!
Today is the day that people kick-off a wave of ludicrous spending they can't really afford, simply because stuff is on sale. What it means to me is that I have to avoid shopping areas like the plague for the next month so I don't get driven insane. This is kind of difficult considering I have projects to finish and trips to take.
Black Friday this year is on/around the celebration of Eid al-Adha for my Muslim friends. When it comes to events, the two could not be more diametrically opposed. Black Friday is mostly about money, shopping, and possessions-- through spending. Eid al-Adha is mostly about life, sharing, and charity-- through sacrifice.
As if the irony wasn't already thick enough, Best Buy made an attempt to combine the two events in one of their Black Friday ads, and now Hard-Core-Christian-Conservative-America is losing their collective mind. They freak out and threaten boycott when people say "Happy Holidays" instead of "Merry Christmas" for their religion... and yet when somebody tries to be inclusive of other religions with holiday wishes, they want to boycott for that too (and never mind that Eid al-Adha comes from the story of Abraham of The Bible in which both Christians and Jews profess to believe)...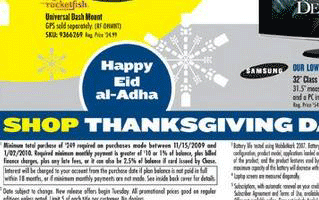 I guess unless your business is marketing exclusively to Christians, you just can't win around the holidays in the USA. So much for freedom of religion. To be fair, I certainly hope that Best Buy will remember to wish people a "Merry Christmas" in their ads around December 25th and "Happy Hanukkah" around December 11th. And is it too much to hope that Buddhists will get a "Happy Bodhi Day" on the 8th of December? Wow... this could go on a while if they want to be really fair and inclusive.
As I've said, I don't get offended when somebody wishes me a "Merry Christmas"... they are simply trying to be nice and include me in the spirit of their holiday. Why this never seems to work in reverse is a mystery to me.