I know I should be talking about either how thankful I am for my friends and family or posting my annual DaveToon showing how this is not a good day for turkeys... but what I'm really thankful for on this day of Thanksgiving is Star Trek.
I finally got around to watching my new Blu-Ray of the J.J. Abrams Trek movie today and fell in love with it all over again. After having seen it three times in the theater, I can safely say it's my favorite movie of 2009, which is strange considering I was set to hate it when it was released...
The problem is that I'm such a massive fan of The Original Series that I never anticipated I could possibly like a "reimagining" of the show. Heck, I didn't even like all the franchises that followed... didn't care for The Next Generation... was not a fan of Deep Space Nine... totally hated Voyager... and was mostly indifferent towards Enterprise. They weren't Kirk, Spock and the gang, so they weren't Star Trek. The new movie, however, is Kirk, Spock and the gang, and I loved it. Even though we had different actors in the roles...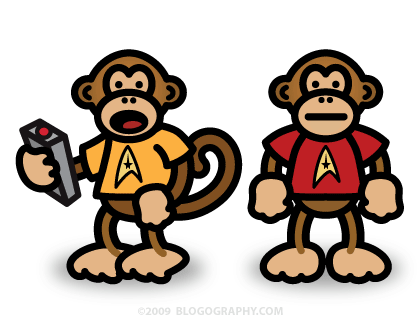 If I had to pick a second thing to be thankful for, it would be that I don't have a gun. Because if I did have a gun, I might be tempted to hunt down the asshole who decided to make a bunch of movie trailer previews AUTO-PLAY before the actual movie on the Star Trek Blu-Ray disc. I just BOUGHT the frackin' movie... you don't get to hold me hostage for stupid-ass previews I don't want to see. That's about as douchey as it gets.
Well, not as douchey as, say, Glenn Beck, but still pretty douchey.