Many years ago I rescued a plant that somebody had thrown in the garbage at work. He was kind of an odd thing, because he had been planted in a hole that had been drilled in a piece of lava rock. He was also pretty sickly-looking with only three yellow-ish leaves stuck to a crooked twig.
But I felt sorry for him sitting all alone in the trash, and figured that any plant that could survive living on a rock deserved a shot. So I rescued him, then started nursing him back to health with plant vitamins. I also bought some wire and sticks in an attempt to straighten out his stem. After a couple of years of tender loving care, he actually ended up looking pretty good. I named him Cooper, and he's sat on top of my filing cabinet ever since.
Over the years Cooper has had to put up with some pretty heinous treatment.
I've gone on trips and forgotten to water him. I've knocked him off the filing cabinet. He even had to suffer through the Winter of 1997 when somebody turned the heat up to 90-degrees in an attempt to melt the snow off the roof. But Cooper is a survivor, and always manages to pull through.
Yesterday he had his worst day since being tossed in the garbage.
I went to the water cooler to get a glass of water and ended up grabbing a handful of Cheez-Its along the way. When I got back to my office, I remembered that I'm going on vacation for a week, so I thought I'd share my water with Cooper so he'd be okay while I was gone.
As I was packing up to go home, I noticed something odd...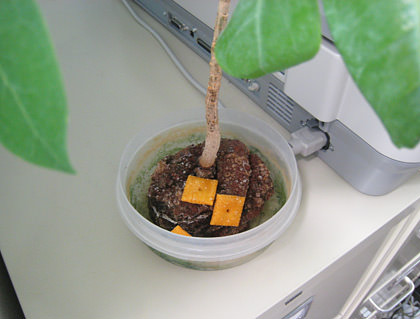 Poor Cooper.
Apparently I ended up drinking the water and dropping my remaining Cheez-Its into his bowl instead. And while I would never question the fantastic nutritional value of Cheez-Its for humans... something tells me that they don't have the same benefits for plants.
Fortunately, I noticed my stupidity and was able to remedy the situation. Cooper is now Cheez-It-free, well-watered, and ready for a week of alone-time.
But what in the heck does this say about my mental state?
I must really, really need this vacation.