I am not a big fan of when people blog about their medical problems. Not because I think it's boring or stupid or anything... it's just that I find the inner workings of the human body to be "icky" and don't like to think about that kind of stuff.
Especially when it comes to talking about my own medical problems.
Because somewhere along the way "puss" or "mucus" or "bile" or some other kind of nastiness is just bound to creep into the conversation, and I'd really prefer not getting into it.
But I am not having a very pleasant evening, and the situation is all I really have to blog about right now. So rather than leaving a blank entry, I thought I'd find a way to discuss matters in a way that's not going to gross anybody out.
A metaphor, if you will.
Let's say that you built a new greenhouse where the plants require special water. Highly filtered water, you might say. So you build a nice system where dual filtration units remove all the impurities, then pass the filtered water off into a bucket. The bucket in turn feeds a massive nozzle which you then use to spray your plants...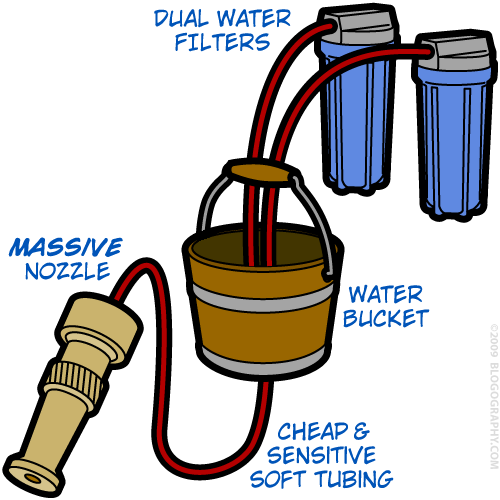 The key to comprehending this system is understanding just how massive the nozzle is. It's enormous. Firefighters are in awe of just how big it is. You could hose down an entire football field plus a team of cheerleaders in just five minutes (assuming you didn't want to take your time, of course)... because that's how astoundingly large this nozzle is.
Unfortunately, the tubing you bought to feed the system is way too small. It's also very soft, and easily ripped if anything sharp comes near it. It can also be prone to tearing if you force something too wide through it. And no, I don't know why. Maybe you spent all your money on the massive nozzle and didn't have enough left over to buy decent tubes... whatever... it's not important.
What IS important is that the nozzle is just fine. The nozzle works perfectly and can handle just about anything you throw at it. It's the tubing which is totally inadequate to the task here.
Because, oops! Every once in a while the filters let a particle slip through. This causes all kinds of agony, because those little tubes just aren't built to handle it. Eventually, it will most likely make its way through the system, but it's a painful process. The worst, most horrifying part is in the tubes leaving the filters and depositing into the bucket. These are the tubes least able to cope with the damage. You get something going through here and you become so traumatized that all you want to do is burn down the entire greenhouse.
The tube from the bucket to the massive nozzle is uncomfortable, but nowhere near as painful. Which is where I'm at now...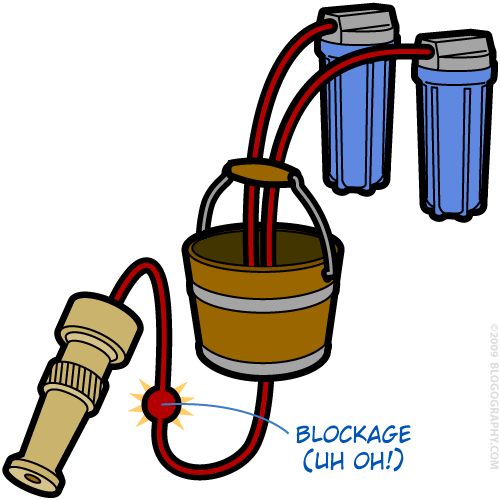 Not at all agonizing, but scary nevertheless. Having a particle stuck here feels like you have a little razor blade about to run through your nozzle. It also makes you feel like your bucket is full all the time. So you spend your entire day running to the greenhouse even though your bucket is mostly empty. What time you don't spend at the greenhouse is spent in quiet discomfort, just waiting for the particle to finally exit your filtration system so you can get back to a normal gardening experience.
And I would really, really, like to get back to normal so I can start my next trip without having to worry about my massive penis nozzle.