It's Bullet Sunday to the rescue...
• Photograph. One of the projects I've been working on over the past three years is getting all my photos converted to a digital format so I can preserve them as non-degradable 1's and 0's for all eternity. Once I got off work this afternoon, I started combing through my collection of pictures and negatives to get another batch ready for scanning. With the additional 1,748 images I rounded up today, I'll be at roughly 75% of my photographed memories converted. It's an expensive ordeal, to be sure, but ultimately worth it. If, for no other reason, that I get to relive the good old days when I looked like an advertisement for 80's fashion gone terribly wrong...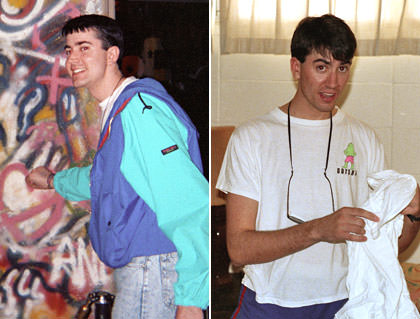 • Remember. The down-side of rummaging through old memories is that you always run into people, places, and things that you'd just as soon forget. That's when the big decision of "to scan or not to scan" comes up. I don't know what it says about me, but 9 times out of 10, I choose not to have them scanned. 7 times out of 10, I destroy the originals. Some people would probably be horrified to hear this, believing that eventually you'll regret having gotten rid of the photos because you'll want to remember everything in your life... both good and bad. But try as I might, I cannot fathom being 90 years old and wanting to kick myself because I don't have a photo of some old girlfriend who screwed me over. How, exactly would that work? "Gee I wish I could remember what that lying, blood-sucking whore looks like." Uh huh... I don't think so. Some things really are best forgotten.
• Film. I still shoot film from time to time. There's a level of creativity, unpredictability, and danger that comes from throwing caution to the wind and using a chemical reaction to record an image. That being said, man what I wouldn't give to have had a digital camera back in the 80's and 90's when all these photos were taken! I don't really appreciate how amazing it is to be able to review a picture immediately after you've shot it until I see how many shitty photos I've got from back in those days. Over half of these shots would have been deleted or re-taken if only I knew they'd end up looking so bad. Oh well. I should be grateful that I had the relatively modern film technology I did (especially when compared to what came before it).
• Print. Back in the "film days," 100% of my photos were printed. Now-a-days, I'm guessing it's less than 5%. Most of the time I look at photos, it's on my computer. About the only time I have physical copies made is when I want to share them with friends and family who doesn't use a computer. This bothers me a little bit every time I think about it. Even though all my data is backed up very, very well... I still feel the need to have things in print for some reason. Maybe I'm just sentimental that way.
• Photoshop. Of course, one of the things I'm most looking forward to after getting all my photographs scanned is being able work some Photoshop magic on them. So many of the images can be dramatically improved by just small changes... erasing that person standing in the background... fixing the color balance... cropping out distractions... Photoshop makes it all so easy. A part of me thinks of this as "cheating" when I mess around with film images, but when it comes to my digital shots I don't give it a second thought. Perhaps it's because back in the "film days" you accepted that what you see is what you get when you press the shutter release. Whereas in the digital age, you take photos knowing you can change them. Whether this is a good thing or a bad thing, I haven't yet decided.
What I have decided is that it's time for bed. I get to sleep in tomorrow morning, and I don't intend on ruining that by staying up past midnight.