Happy Mother's Day to all the mommies out there! It's yet another Bullet Sunday, this time from beautiful Savannah, Georgia!
• Blogiversary. Okay, okay... I realize that April 18th, Blogography's six year anniversary, blew by and people are wondering what happened to my annual Kick-Ass Blogiversary Celebration (especially since last year was such a huge success). Well, I had big plans for the event, but everything kind of fell apart when the economy tanked. One company doubled their price in-between the time I asked for a price quote and the time I submitted the project. Another company that was working on one of my most favorite Blogography products ever has (literally) disappeared off the face of the earth (and took my deposit with them). Other companies I deal with have gone out of business or been sold. Add in TequilaCon, Davedon, Davenburgh, kidney stones, work, and non-stop travel... and, well, you get the picture. So instead of concentrating all my Blogiversary projects into one week, I'll be sprinkling them throughout the year as I manage to complete them. Starting with today...
• Ask Dave! Some of you may remember my "Ask Dave" Dashboard Widget for MacOS X. It's a tiny app that allows you to ask Lil' Dave a question, and he'll shake his magic screen to have an answer appear. It's thoroughly useless, but ever since Apple allowed apps to be built for the iPhone, I've wanted to convert it over... so I could have something SIX TIMES MORE USELESS! Introducing Ask Dave! for iPhone and iPod Touch!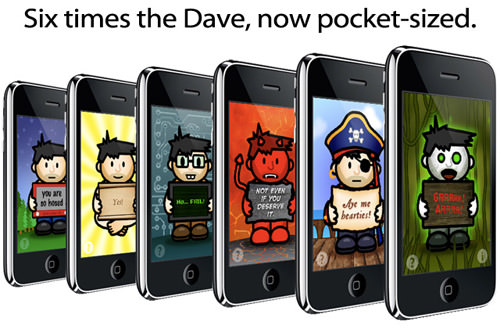 It's pretty sweet and has some cool features... but, best of all, it's FREE! If you have an iPhone or iPod Touch, head on over to the Official Ask Dave! Page and get it! And if you don't have an iPhone or iPod Touch, now you have an excuse to go buy one!
• Bindle Binaries. And the reason that the Ask Dave! app is free isn't because of me. It's because of David Syzdek of Bindle Binaries. When I realized that I wasn't smart enough to create the app on my own, I started looking for a company that I could hire to build it for me. As the price quotes began to roll in, my heart sank when they ended up being way outside my budget. I would have to either abandon the project or charge for it. But then I got the idea that maybe it would be cheaper to find somebody who already had a "Magic 8-Ball" app and have them put my graphics on top of their existing code. I downloaded every free "Magic 8-Ball" app I could find, picked my favorite one, then wrote to the author with my idea. The rest is history. David liked the project, agreed to release it for free if the code could be open-source, and started work on the app immediately. So, if you enjoy Ask Dave! don't thank me. All I did was draw some cartoons. David is the one who figured out a way to put it together... came up with a way to animate the backgrounds... added all the little touches that makes it feel like an iPhone app... put in untold hours squashing bugs and getting it to work... it's all him. Thank you, David!
Sadly, this is my last day in Savannah. I'd be upset about that, but tomorrow I'm off to new adventures...