After a long and very difficult day, all I wanted to do was pick up a bag of lettuce and some cheese I needed for the dinner I was planning, go home, eat, and go to bed. Simple, right?
Of course, nothing is nearly as simple as you'd think it would be. Not these days.
There I am in the cheese aisle at the grocery store looking for a bag of medium cheddar shreds. But all the cheeses are mixed up, and I'm having a hard time finding what I want. As I'm searching, I hear two women talking loudly nearby, but ignore them. At least I do until something runs into me.
So I turn to see that one of the women who is pushing a plastic shopping cart made to look like a truck for kids to ride in has bumped into me. Except her kid is not actually in the fake truck, but instead buzzing around the two ladies. Thinking that I was run into accidentally because the woman was trying to manage her child, I ignored it and went back to searching.
Until I am ran into again. This time harder.
So I look up and suddenly realize that she was not running into me by accident. She is running into me intentionally because she wants me to move.
"ARE YOU KIDDING ME?!?" I say, instantly pissed off.
Which results in her unloading a stream of rapid-fire Spanish that I don't understand.
Near the boiling point, I ignore her and say "You ram that thing into me one more time and I'm wrapping it around your neck."
Then I go back to searching for cheese, taking my time and seething with rage. I've heard the phrase "I'm going to cut a bitch" bantered around and always thought it was funny. But if I had a knife on my at that moment, I'm pretty sure I would have cut a bitch for reals...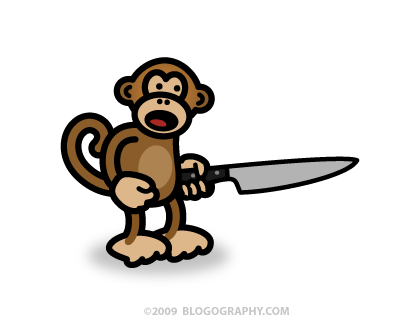 Seriously, what the hell? Is this where we're at as a society now? I know we've already reached unprecedented levels of rudeness, but intentionally ramming into people with shopping carts? Really?!? People are so lazy that they can't be bothered to park their cart and walk over to what they want... now they just run into people so they don't have to be bothered?
Well that's just fine.
I can only hope that I remember to leave my knives at home from here on out, or I guess I'm going to end up in prison for manslaughter sooner rather than later.