To those who celebrate (or just like bunnies and chocolate) Happy Easter on this fine Bullet Sunday!
• Eggo. For Boiled Egg Day this year, I'm guest-blogging over at Hilly-Sue's place. I'd go there immediately, because it's far more interesting than anything you'll find here (though I've now archived the post in an extended entry).
• Apples. Knowing that Apple can be so good at so many things, it always shocks me at the regularity of their massive failures. Today I wanted to buy a couple of iPhone apps at their iTunes Music Store. But no matter which of my FOUR credit cards I tried, it always tells me that the "Security Code is Incorrect." And, of course, I can't find a phone number to call and get it straightened out. Instead I have to root around their website for twenty minutes until I find an email form. Epic Fail...
• Dolls. After waiting through a half-dozen shitastically horrible and altogether boring episodes of Dollhouse I prepared myself for "good" episodes that everybody said would follow. Well, here we are at episode #9 and it's still a boring pile of crap. And that's being generous, because it's also one of the most annoying shows on television... all because of tech-nerd dumbass "Topher" who has to be one of the worst characters ever unleashed on television...
Seriously... I never thought anything could top David Caruso's gag-inducing "Horatio Cane" on CSI: Miami, but here we are. "Topher" has convinced me that genius show-runner Joss Whedon has either A) Completely lost his mind, or B) Is actually a total genius who is intentionally making Topher a whiny, annoying, bumbling tool so he can add a major twist to the show by ultimately revealing that Topher's character is a complete sham, and "Topher" is actually the man behind the entire Dollhouse organization (or something equally shocking). In any case, I spend every minute Topher is on screen wishing that he would die and take this awful excuse for a television show with him. Joss Whedon's speciality is writing deep, fully-realized and complex characters that interact in utterly fascinating group dynamics. Dollhouse features none of these strengths, giving us erasable, shallow, interchangeable characters that don't interact in any way that's even remotely interesting. Perhaps he's planning on eventually getting this show to a place where it's worth watching, but he's taking way to long to get there and I don't feel like being tortured anymore. BRING BACK SERENITY!!!
• Cupid. It is well documented here that my favorite show ever to air on television was Cupid, starring Jeremy Piven and Paula Marshall. Thanks to gross mishandling by ABC, the show was never given a chance to find an audience, and it was brutally and unfairly canceled. Sad, yes, but show creator Rob Thomas went on to create Veronica Mars, the second greatest show ever to air on television, so I eventually managed to grieve and move on. Except when it was announced that Rob Thomas was being given a second shot at launching Cupid, but this time without Jeremy Piven and Paula Marshall. Going in, I knew it wouldn't approach the greatness of the original, but I held faith it would at least be good television. It's Rob Thomas, after all. Unfortunately, after suffering through two episodes, I find that the re-imagined copy falls flat. The two leads never even come close to the energetic interplay and chemistry that Paula and Jeremy had. Furthermore, Jeremy Piven infused Trevor with a sense of wonder that made it seem as if he might really BE Roman god of love, Cupid, newly stranded on earth... whereas Bobby Cannavale just seems like a slightly creepy scammer who is pretending to be imagining to be Cupid for some unknown purpose. Sarah Paulson (who was great on Studio 60) seems to be playing Claire completely passionless and emotionally void, which defeats the purpose of her character. Please, please, please, PLEASE won't somebody release the brilliant original series on DVD?!? Or, even if you don't want to go to that kind of expense, could you at LEAST release in on iTunes so people can buy it digitally? The show is entirely too important to be left sitting on a shelf somewhere...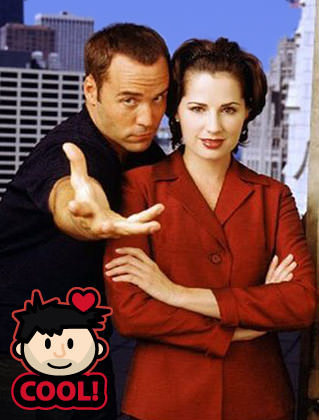 • Cougar. And since I'm on a television kick here... JUST when I think that television can't get any more stupid, here comes a new piece of reality show shit called The Cougar where an older woman gets to weed through a bunch of younger guys "Bachelor-style" until she finds her "true love." I wonder how much these people get paid to whore their lovelife out for television entertainment? And I definitely use the word "entertainment" loosely...
And now I should really do something about my taxes. I think they're due soon.
Here's an archive of an entry originally posted at Snackiepoo...
Hey Snackie fans, this is not Hilly… this is her BFF, Dave2 from Blogography! For reasons that I can't even begin to fathom, The Queen of the PRB has entrusted me to post for her today while she is tearing across this great nation at ludicrous speed. This is probably a good thing, because it's pretty tough to talk your way out of a ticket if the officer notices that you were not only speeding, but updating your blog on your mobile phone while driving as well.
Anydoodle, since today is Easter Sunday I thought I'd try to come up with something that reflects the true spirit of the holiday. Something that will harken back to a simpler time when holy occasions like this weren't all commercialized and exploited. Something thought-provoking and insightful that will challenge people to set aside their negativity and help make this world a better place for all mankind. But most importantly, something with eggs in it.
So here we go with a very special edition of...

WHAT'S YOUR FAVORITE WAY TO EAT AN EGG?
(Assuming you are not highly allergic to eggs and won't die from consuming one)
The Easter Bunny likes to boil everything, yet there are so many other great ways to cook an egg that it can be kinda tough to choose a favorite! But Snackie Sunday is nothing if not challenging, so dig down deep in your soul and pick your preferred preparation, won't you?
As for me? My favorite way of eating an egg is when it's baked into a chocolate cake!
Because chocolate cake tastes totally awesome… especially if it's Betty Crocker, because there's PUDDING in the mix! Yes, PUDDING, bitches!
I also like a good fried egg sandwich. Where the bread is toasted just perfectly so it's crusty enough to keep the egg from soaking through, but not so crusty that it scrapes your mouth all up when you eat it. Where the egg yolk is a little bit runny, but not so undercooked that you get salmonella poisoning and die. Where it's got quality freshly-shredded cheddar cheese on it, not the cheap-ass bargain-bin $1.99-a-bag pre-shredded stuff that doesn't melt even if you take a blow-torch to it. Where it has just a dash of freshly-ground pepper and a light spread of mayonnaise to add flavor, but never ketchup which has no business being on a fried egg sandwich… ever. Yeah, I wouldn't mind eating an egg in a deliciously satisfying fried egg sandwich either.
But mostly I'd rather have the chocolate cake. Mostly.
Wishing Mah Hilly-Sue A Safe Trip Kisses,
Dave2