In many ways, returning to London is the perfect vacation for me, because I don't feel under any pressure to rush around playing tourist. I've seen most all the major attractions here on previous visits, so my days can be spent wandering at my leisure. Perhaps discovering some small shop or overlooked oddity that's uniquely London instead of standing in a queue somewhere.
But London and the surrounding countryside have so much to offer... such a massive number of things to see and do that are of historical significance or sublime beauty... that you really can't avoid playing tourist altogether. So when my friend and and fellow Hard Rock Runner, Perry, asked if I'd like to take the train up to Cambridge for a walkabout and some lunch, I jumped at the chance. Partly because I never got to explore the city on my all-too-brief previous visit... but especially because I've been wanting to visit The Fitzwilliam Museum for a decade.
Regularly touted as being one of the finest museums in all of Europe, The Fitzwilliam has a remarkable collection of painting masterworks by artists such as Monet, Picasso, Titian, Cézanne, Renoir, and Degas... but also features a surprising number of antiques from Egypt, Asia, Rome, and Greece. But all these treasures are almost secondary to the building itself. The interior is an architectural marvel of such beautiful artistry that you could actually ignore everything it contains and still leave with your mind blown. I was disappointed that they don't allow photography inside... but I was positively gutted that they didn't have a book dedicated to the building in their gift shop. A few random postcards or a page in a book is all you get. Tragic, really.
Given that Cambridge is a University Town, there's so much more to see, so off we went. First walking past the remarkable King's College...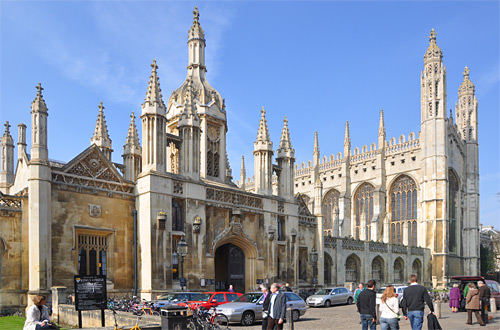 Then continuing on for a walk around Trinity College, which is beautiful, but most everything is closed to tourists...
Then off to St. John's College, which offers quite a lot more to tourists, including their chapel, grounds, their "Bridge of Sighs," and a statue of a particularly vicious nun, who's standing on top of some guy's back (?!?)...
After lunch and some wandering through the market and downtown shops, we boarded the train back south, where I said goodbye to Perry until tomorrow, and headed back to London.
Because meeting up with fellow frequent travelers always makes for fascinating conversations, I was lucky enough to arrange dinner with fellow road-warrior Andre, who was kind enough to journey into the city. His restaurant suggestion, The Texas Embassy, was a fantastic choice... not just because good Tex-Mex is one of my favorite meals... but because the restaurant has an interesting history to it. Texas and The British Empire have an interesting history together, so finding a fantastic Texan restaurant in the heart of London is not as odd as one might think. From there it was a short walk to the pubs of Covent Garden, where I somehow managed to resist the temptation of Jägermeister, despite it being proudly displayed with Red Bull as God intended...
And thus ended a perfect day, with Andre off to the train station for the journey home... and me preparing for Davedon tomorrow before passing out...