The bummer about being a US West Coaster is that a trip to Europe basically kills an entire day. I start out with a local flight to Seattle, connect to a long-haul 10-hour flight to Amsterdam, then RUN MY ASS OFF across Schiphol International Airport so I can get to my connecting London flight that starts boarding ten minutes after I land.
And here I am the next morning in Jolly Olde England.
Now, usually, that ten hour flight is nothing but the sheer agony of being crammed in a tiny seat and unable to move the entire trip... but somehow the travel gods smiled upon me and I ended up getting upgraded to World Business Class. Given the obscene amount of miles I fly each year, I'm used to getting upgraded on domestic flights, but it is a rarity on International trips (which, sadly, is where it makes the most difference).
Suddenly, a trip filled with pain, suffering, and dread becomes a different experience entirely.
And now I'm going to blog about what it's like to travel World Business Class on Northwest Airlines (soon to be Delta). From past experience, I know that there are those who will think that I am an asshole and somehow "bragging" about how awesome I am because I fly first class when "normal people" are stuck in coach. And that's fine. But I think it's important to note that flying thusly is something I could never afford, and only ever get to experience because it's free. Except it really isn't. I had to accumulate 160,000 frequent flier miles last year and spend countless weeks away from home, friends, and family to get to the point where I earn... I fucking earn... that prized upgrade seat. So people can say what they like, because everything has a price... it's just that sometimes it isn't paid entirely with money.
And besides, what else have I got to blog about?
Please forgive the positively shitty photos. They're positively shitty because they were taken with the positively shitty camera on my iPhone...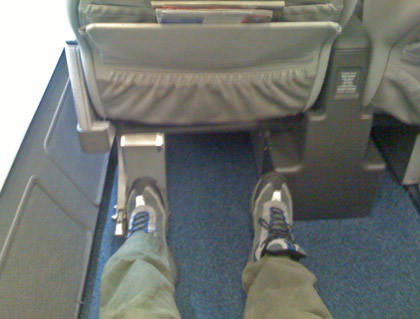 The first thing you notice is the legroom. Whereas the knees of my 6-foot 2-inch frame are permanently embedded into the back of the seat in front of me in coach, World Business has a freaky abundance of legroom. The above photo shows me at the edge of my seat with my legs fully extended. I can barely touch the chair ahead of me.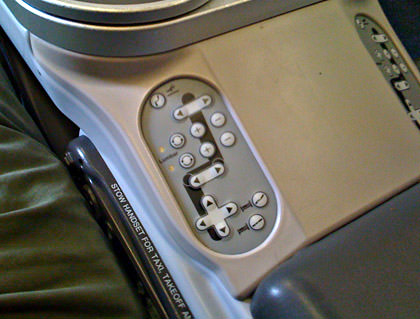 The reason for all that space? Your seat folds out into all kinds of configurations, including a bed. Yes, a bed. While not completely flat, it might as well be. Unlike the laughable "recline" position of the teeny-tiny coach seats that crush the person behind you, these seats can actually become comfortable enough to get some sleep. Good sleep.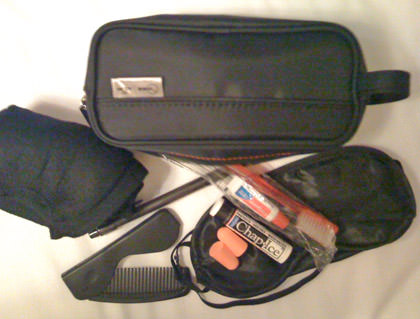 Along with a seat about a billion times more comfortable than coach, you also get a little amenities kit. Inside you'll find a pen, chapstick (lip balm), switchblade comb(!), sleep mask, a toothbrush with mini toothpaste, and a pair of socks. SOCKS, BITCHES!! It all comes in a lovely zipper bag that's actually very nice. Notably absent are slippers. When I've flown World Business Class to Asia, you get slippers.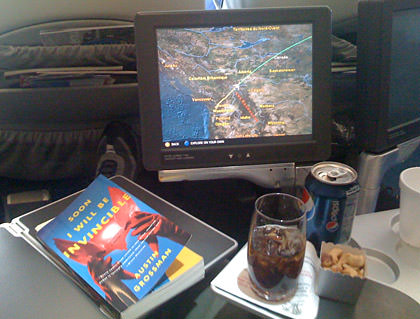 Before takeoff, they offer you juice or champagne, but you can ask for anything you want. After takeoff, they roll out the beverage cart and bring you a little box of assorted nuts. The nuts and your drink are refilled as often as you like. You can also go to the galley and grab from their snack basket any time you get hungry, which is crazy when you consider that they feed you constantly. Vahid gave me the book "Soon I Will Be Invincible" for my birthday, and it is freaking AWESOME (seriously, go buy it immediately). Vahid knows all kinds of cool books, yet never blogs about them. He will, however, gladly give you a long list of incredible reads if you see him in person buy him a drink or two.
Note the personal Video System (which is also available in the main cabin at a smaller size) which can map your journey, show you movies, and play music or games.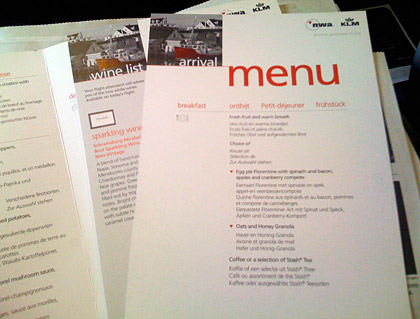 You are handed a menu with various upscale dishes... hardly any of them vegetarian-friendly. A full dinner and breakfast with various appetizers and snacks are served, all of them sounding just great (assuming you eat meat). As an example, one of our breakfast options was "Egg Pie Florentine with Spinach and Bacon, served with Apples and Cranberry Compote" plus your choice of breads.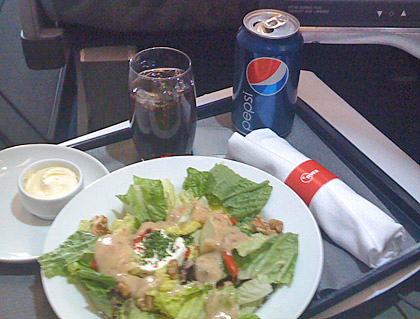 Unlike coach food, World Business Class meals are never served in little plastic tubs. It always comes on real glass plates with real glassware and real metal cutlery. And I believe that's real butter too. But my most favorite part? You don't just get "salt and pepper" you get "Natural Sea Salt OR Natural Rock Salt" and "Freshly Ground Black Pepper OR Freshly Ground White Pepper"... YOUR CHOICE! How classy is that?!?
And there you have it. That's how the other half live (and me... on rare occasions). If you have the means (or frequent flier miles), I highly recommend it. I can't speak for other airlines, but Northwest (soon to be Delta) with it's impeccable flight attendant team, great seats, and great food, makes even the longest flights a sheer pleasure with their stellar World Business Class service. Two thumbs way up.
And now, after a fantastic morning wandering around London with flawless blue skies, it's time for dinner...