Since tomorrow I have signed up for something new (to me) and touristy that demands my getting up at 4:00am, I decided that today I would do — — not much of anything. After brunch with Lady Penelope and The Dutch Bitch, I thought I'd just wander around in this amazing weather... perhaps visiting my favorite comic shop here, then maybe checking out The Apple Store on Regent Street (which had not yet opened when I was here in 2004, and I didn't have time to visit in 2006).
But then Anthony and Paul had raved about their visit to the Cabinet War Rooms & Churchill Museum last night, so new plans had to be made.
After a lovely brunch we wandered beautiful Covent Garden for a bit...
Unlike in the USA where street performers are mostly shit, here in London you must be licensed to perform, so most of the things you see and hear are pretty good. Some are exceptional. Penelope tells me that Covent Garden is famous for their street performers, so anybody here actually had to audition for their spot. One who caught my notice was a lady beautifully singing opera at the Market House. What made her truly special is that her music accompaniment was provided by... a teeny tiny iPod Shuffle! How brilliant is THAT?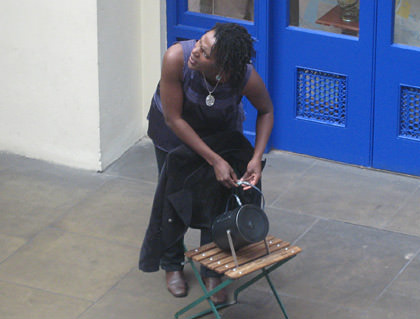 Surprisingly, street performers are not the only thing which must be licensed. How would you like to be the government agency in charge of the sex shop trade? I don't know why, but I envision the shop undergoing regular inspections by some older, official-looking bureaucratic gentleman... walking the store with a tape measure and saying things like "These dildos are not regulation length and must be removed!" and "I do not see an electronics safety seal on this vibrator!" Though that's probably just me...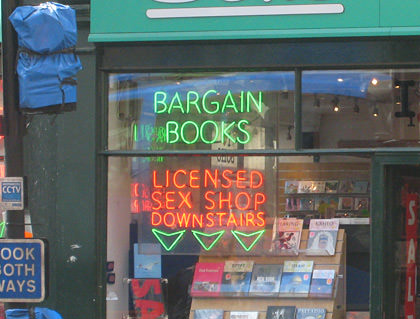 As I am not much for shopping I bid the girls farewell to headed to a geekier retail experience: FORBIDDEN PLANET!!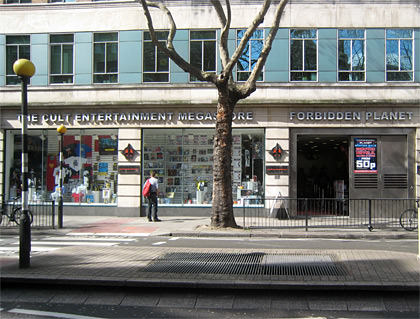 It's the ultimate comic book shop, stuffed to the rafters with all kinds of geeky extras like manga, toys, books, games, and the like. Some of the stuff is uniquely British and, of course, all those wonderful UK television shows and movies are well-represented, making it an especially favorite place to hang out in London.
Apple Time!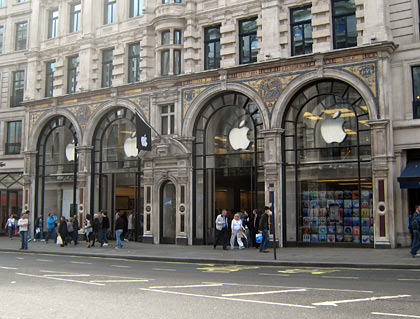 Now, to be honest, I don't feel compelled to visit Apple Stores anymore. If you've seen one, you've pretty much seen them all, and the variations are not really so overwhelming that you "gotta see every last one." Even with the Regent Street London store being located in a grand old building, the interior is exactly what you'd expect. Or is it...???
When debating whether or not to stop by Oxford Circus and visit the store, I took a quick trip to the online review site, Yelp!, to see if there was anything to-die-for-drop-dead-special about the place. Eventually I ended up at the more UK-oriented equivalent, Tipped, where I saw something really disturbing... one of the reviewers there had this to say: "One more notable fact about the London Apple store. They have glass staircases. And it is rumoured that the sales associates like to stand under them when girls in skirts are going up... DIRTY!" — This kind of threw me for a loop, because that would be very different than the glass staircase at all the other Apple Stores I've been to... so I decided to check it out.
And, of course, the stupid bitch and her "notable FACT" was completely wrong. Just like every other Apple Store, the glass on the stairs is FROSTED. You can't fucking see through it at all. And, just like every other Apple Store, the staircase is completely closed off, so even if the stairs were entirely transparent... there is no way in hell that employees could stand under them and look up girl's skirts. Did this dumbass even bother to visit the Apple Store before writing her review? Because, seriously, it would take all of two seconds to verify that this "notable FACT" of hers is completely untrue. This is why you really have to take online review sites with a grain of salt, because stupid shit like this taints them for everyone and completely defeats the purpose of the site by posting WRONG information. GAH!!!
Anyway, visiting the War Rooms and Churchill Museum necessitated a ride on the Jubilee Line of the London Underground (subway), which I love because it's a newer line with some stations sporting a very cool heavy industrial look, while retaining the brilliant logo identity which is one of my all-time favorites...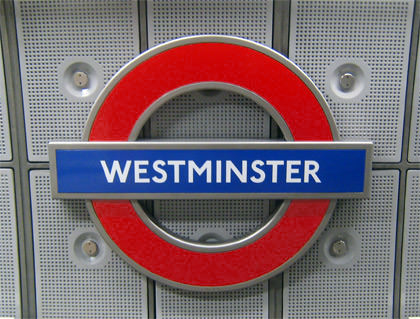 They just don't make identities like this anymore... clean, simple, elegant, functional, distinct, recognizable... and so beautiful. Today it would be all computer-generated gradients with swooshes and all that senselessly stupid 3-D crap that I've grown to loath. With the London Underground, everything is note-perfect. And the typeface (which you can actually purchase) is sublime. A highly readable yet unique take on a sans-serif font that is a graphic artist's dream...

A couple of blocks from the station, and here we are at the Cabinet War Rooms and Churchill Museum...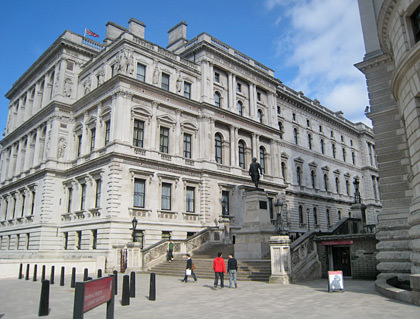 Turns out that Anthony and Paul did not oversell it... this museum was absolutely brilliant. Everything they said it would be and so much more. The War Rooms themselves have been preserved in the exact state they were when World War II ended. The audio guide included with your ticket purchase is all very well done, and the displays provide real insight into how the war was fought. After touring the bunker, you can then move on to the Churchill exhibit, which has to be one of the most thorough and complex museum study I've ever seen dedicated to a single individual. And its not just stuffy old displays of his crap either (though that's there too)... there's great hi-tec interactive tools that allow you to explore his life in excruciating detail. Primary of which is "The Lifeline," which is a massive electronic table that allows you to view a timeline of Churchill's life down to individual days. Even if "war museums" are not your thing, this is one attraction that's worth a visit.
The Cabinet War Rooms and Churchill Museum is closely tied to The Imperial War Museum across The Thames so, naturally, I had to visit there as well. Or, revisit, if you will, because I had been to the museum years ago. It's quite nice (FREE!) and features exhibits dedicated to The Holocaust which are not to be missed...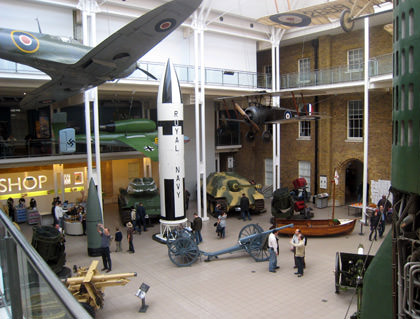 Since I was already in "tourist mode," I decided to go for broke and visit the most excellent Wallace Collection so I could check and see if they have finally made a postcard of their painting The Waking of Cupid by Hughes Taraval. Unfortunately, they didn't, again... which is a shame, because it's a kind of funny and charming piece that would be the perfect postcard to send to a good friend whom I know loves this kind of stuff. Oh well, they do let you look at it online, which is nice...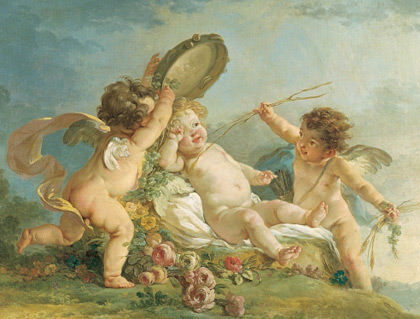 Image © The Wallace Collection
My day now having completely flown by (THANKS A LOT ANTHONY!), all that was left to do was grab some pizza for dinner... take the tube back to my hotel... set my alarm for way too early... and try to get some sleep. Or blog... if your insomniac nature gets the best of you.
Which, apparently, mine has. As usual. Even on vacation I can't seem to get a break on sleep.