For as long as I can remember, I've been in love with maps and map-making.
Old maps, new maps, road maps, land maps, ocean maps, weather maps... any kind of map at all is a source of fascination to me. At one point I even considered a career in cartography, and did a lot of research on how maps are crafted. It never really amounted to anything, but the reward was in the learning, and my appreciation for maps grew as I studied them.
I did eventually do some map work for hire... usually presentations for land developers, graphics for realtors, and stuff like that... but most of the hundreds of maps I drew were just for fun. Like this map of Davetopia, which was one of my very first maps (original drawn on paper, but digitized years later). It was created for an online experiment called DaveWorld...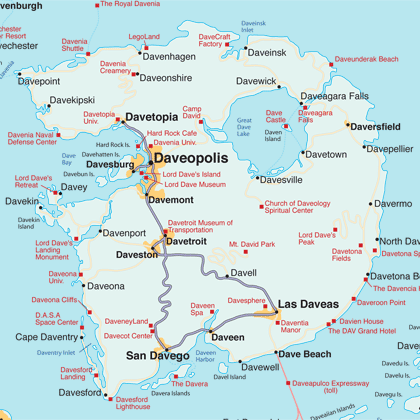 Today when I stopped for gas my leg rubbed against the big wad of road maps I keep in my car door pocket, and they all fell to the ground. As I bent over to pick them up, it suddenly occurred to me that I haven't opened any of them in years. About a decade ago, I started using online sites like MapQuest and Google Maps when I needed directions. Now-a-days, I just turn on my iPhone.
When it comes to actually using maps, print is apparently dead to me. Once I got home, I grabbed a couple of the more useful-looking laminated maps from the pile (just in case) and threw the rest in the trash.
After dinner, I dug them back out of the garbage so I could look at them one last time before I trashed them again. It's hard to let go of something you love. As I sit here typing this, a part of me is still mourning the maps I threw out. But then I look at the dozens of map books, atlases, travel books, and cartography books on my shelf and know that I made the right decision.
Just like in cartography, life is something you should keep as uncluttered as possible.