I cannot imagine the scrutiny that somebody in the public spotlight has to endure. I don't think anybody can until it happens to them.
Which is why I am starting to develop a real sympathy for Michelle Obama. The poor woman cannot catch a break, as her every nuance is analyzed to death. Her every decision... no matter how slight... is debated and dissected for months after it happens. And usually, it's over insignificant details that she seems to catch the most flack for. The latest furor burning up the internets is that she has the audacity and poor taste to =gasp!= wear SLEEVELESS DRESSES!!
Just look at the hussy as she attends a recent presidential address...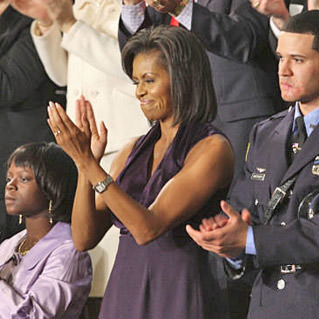 Today somebody actually asked me what I thought of Michelle Obama dressing in such an undignified manner.
"Are you serious?" I replied. "So long as she has her nipples covered and isn't flashing her crotch all over town, I don't give a crap if her dress has sleeves or not!"
Because, honestly, every time I see a photo of Michelle Obama, she is the very epitome of class and good taste. She is a good-looking woman, and dresses appropriately. I think it's time for some jealous bitches to realize that we're living in the year 2009, and shut the fuck up.
At least I did.
Until I saw a photo of our First Lady deplaning Air Force One to meet with the British Minister of Foreign Affairs last week...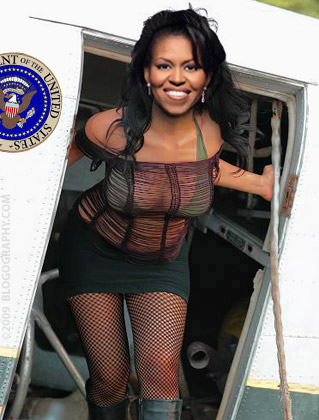 Now, I consider myself to be a pretty open-minded guy, but clearly she has made a wrong decision here.
The First Lady of The United States of America has no business wearing a bad synthetic weave like this!
Clearly this is not how this country should be represented. You're the FIRST LADY for crying out loud! Find yourself a good hairdresser and spring for the natural hair extensions!
I mean, my God, what's next? LEG WARMERS WITH SPANDEX?!?
Somebody please help her before it's too late.