Another Bullet Sunday. Another desperate scramble to get a blog entry written so I can attack another item on my to-do list...
• ACTA. To say that I am disappointed in the Obama Administration for their draconian secrecy surrounding the "Anti-Counterfeiting Trade Agreement" is an understatement. I am thoroughly disgusted. So much for "transparency in government." The potential for misuse of ACTA is truly frightening, and yet nobody seems to care. The more things change, the more they stay the same. Not that I'd expect anything better from a McCain Administration, but Obama is the one who made all those transparency promises.
• United Kingdom. Tomorrow I'll be making lanyards for the meet-ups in London and Edinburgh... so time is running out to get on the list! If you're going to be in London on Saturday, March 21st or Edinburgh on Tuesday, March 24th, please email Dave Spice ASAP! (my email address is in the sidebar)...
• Blogiversary. The economy woes are really wrecking havoc with the plans I've got going for my kick-ass Blogiversary VI Celebration coming this April. One company raised their prices substantially mid-way through development. Another company who was working on what would have been my most favorite prize item ever disappeared off the face of the earth this past week. I was concerned when emails and phone calls stopped being returned. I was worried when the phone was disconnected. But I was freaking out when I finally made contact with a neighboring business and was told that the offices had been abandoned. The deposit I made to start the project was relatively small, so losing my money isn't my major concern. No, coming up with something new to replace it is the thing that troubles me. It's crushing to have your dreams dashed by factors outside your control.
• Postcard. Ooh! My postcard from Lynne arrived! And it's got a cool Orang Utan on it...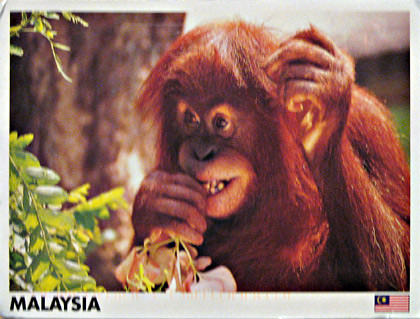 • Bailed. Am I the only one who thinks that somebody needs to be shot in the balls every time I hear the word "bailout" and "executive bonuses" in the same sentence? Seriously... shotgun to the fucking testicles (or ovaries, for the XY-challenged).
And now it's time to get back to work for a few hours. My time until takeoff to the United Kingdom is rushing by...