How is it that I know the words to songs I absolutely loathe?
I hate... fucking HATE... the song "Leader of the Band" by Dan Fogelberg. Every time I hear the stupid sentimental crap being blasted in an elevator or at a grocery store (like this morning), I want to rip my ears off with a pair of pliers. But, even worse than having to listen to it, is the fact that I somehow KNOW ALL THE WORDS TO THE SONG! How the heck did THAT happen? It makes me want to bleach my brain so I can get rid of the lyrics and replace them with something more useful... like a recipe for making toast.
Speaking of toast...
It surprised me greatly when some people didn't "get" the "Dave Spice" reference in yesterday's entry.
How soon they forget.
Singer Geri Halliwell is world-famous for being "Ginger Spice" of The Spice Girls. By far her most famous outfit from those days was her "Union Jack" mini dress and super-elevated red boots. The looks was so iconic that it pretty much became a symbol of the entire group...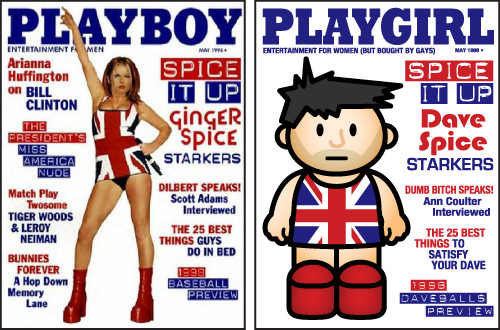 The dress itself has an interesting history. Geri made it from a flag with help from her half-sister for the 1997 Brit Awards. Around a year after leaving The Spice Girls in 1999, Geri held a charity auction at Sotheby's to benefit a children's cancer charity. The Union Jack dress was the top item of the auction, bringing in $69,340. Geri hand-delivered it to the winner, Peter Morton of The Hard Rock Hotel Las Vegas (where it is still displayed). When The Spice Girls reformed in 2007, rumor has it that she tried to borrow the dress back for the tour, but ended up using a newly-made glitzed-up version instead (because the old dress would have had to been altered).
Whatever... I think that Lil' Dave wears it better.