Whenever I find a free moment, usually at the end of the day, I grab my laptop to bang out the day's entry. In good moods or bad, I press that "publish" button and to hell with the consequences.
Except last night. For the first time I can remember, I decided to "sleep on it" before publishing something in my blog. I was outraged to the point of meltdown when I had read that the salary cap for executives taking government bailout money had been cut out of the stimulus package, and wrote about it. Hard.
There's plenty of stupid shit in the "stimulus package" that I don't agree with but, given the terrible shape we're in, I just decided to eat it and trust that doing something crazy was better than doing nothing. Maybe if the package itself didn't work, it might at least spur consumer confidence and get us turned around from this mess we're in. And, despite having reservations about the bailout, I was at least warmed by the salary caps. Even with all the bullshit stuffed in with the billions, somebody was finally putting their foot down and saying "enough with public money going to reward these stupid assholes who are already overpaid." It was a start.
But then the news popped up while I was blogging about the salary caps being axed and I came unglued. One of the few things I 100% approved of in the whole damn stimulus fiasco was apparently gone, and the rage descended. But I only had one source, The Huffington Post writing on a story from The Washington Post, so I decided to sleep on it.
But I was unable to sleep and, at 3:30am, decided to push the button and publish the entry. If the information was wrong, then whatever, I could publish a retraction and apologize for my outburst later. Because if the information was correct, I wouldn't be able to forgive myself for having not said anything. Since 1.6 BILLION FUCKING DOLLARS of the first stimulus package was spent on "executive compensation," I was just too angry to let it slide.
Then I went to sleep for a few hours.
This morning I was still furious, but felt better after reading a nice entry by Mooselet with an update on Sam, the koala who was injured in the Victorian bushfires in Australia. Apparently she's still in pain, but doing well and expected to make a full recovery. She's even got herself a boyfriend named Bob, another survivor from the fires. How can you stay mad when you see a photo like this...
Mooselet also mentioned that The Herald Sun is now selling copies of that famous photo where CFA David Tree is sharing his water bottle with Sam the day she was rescued...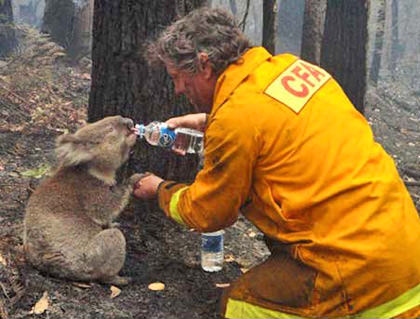 Including delivery to the States, the photo costs just $18.65 (in US dollars, $28.18 in AUS dollars), and all proceeds go towards helping victims of the fires... human and animal alike. You can order your copy directly from The Herald Sun Shop.
It was one piece of good news I had before learning that there were no survivors in the Buffalo plane crash last night.
I could use some good news, and ordered the photo to remind me that it still exists.