Today I knew that my work would be finished around 1:00, so I made a promise to myself that I'd get out into the city and see something new instead of whine about how tired I am and watch television in my hotel room. Cologne has a wealth of things to see and do, and I've barely scratched the surface the past eight times I've been here. Besides, the weather forecast called for sunny skies, so why not take advantage of it?
Except the weather forecast totally lied. It was hazy, cold, overcast, snowing, then raining. This made me all "meh" about trudging out into the city, so I decided to just grab a bite to eat and watch television like I always do on my last day. But then I got mad at myself for once again blowing an opportunity to do something different, and forced myself to go out. There's a former Gestapo Prison and Processing Station that's been turned into a museum (NS Dokumentationszentrum), and I've never gotten around to visiting it. I usually put it off because I was told it had very little English, and you really need to read German to get the most out of the extensive Nazi documentation that's on display. Oh well, it's something to do. When I approached the site, I was kind of disappointed. For a Gestapo prison, it's a fairly unassuming building...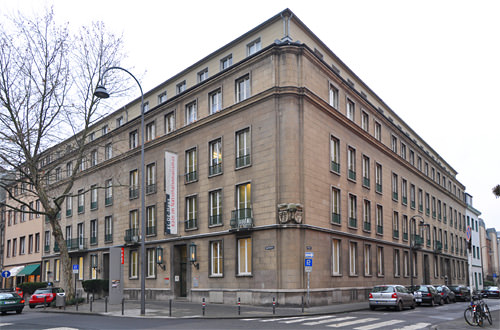 The cost to get in is 3.60€ and, for another 2.00€, you get an audio digiplayer which will explain parts of the displays in English.
It gets scary right away as you descend into the basement where the tiny Gestapo prison cells are at. The audio guide explained that the cells were only supposed to hold one or two people, but held up to ten times that amount as the war progressed. How 30 people managed to exist in a mere closet is beyond one's ability to fathom...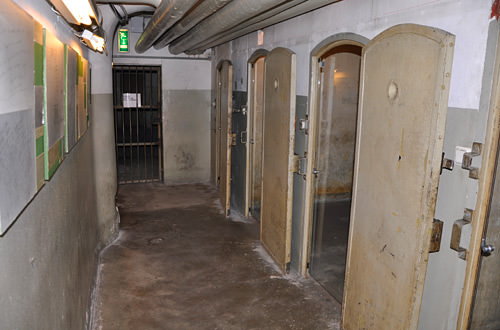 Inside the cells the walls had been covered with writing by the prisoners, which they put there with pencils, sticks, lipstick, and even fingernails. Excerpts have been photographed and put on display, which is both heartbreaking and fascinating. Sometimes the prisoners would record their name and the date they were captured. They'd then add a new date each day, until the dates eventually stopped... meaning they had been transfered or, more likely, killed...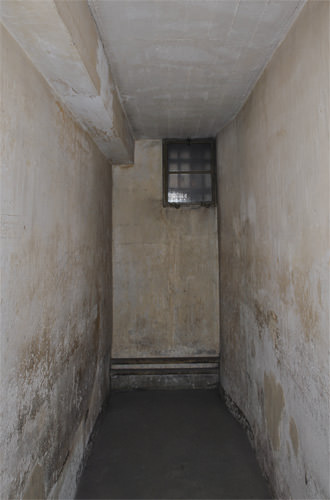 Once you head up to the first floor, the museum begins. The entire collection is a giant timeline which charts Germany's path into the Nazi regime and World War II...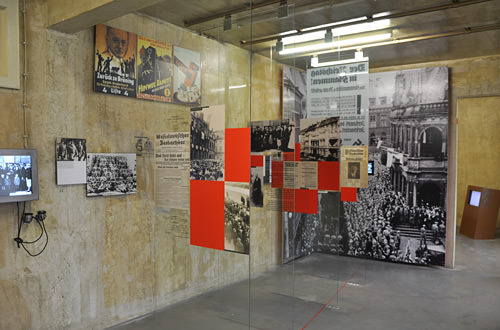 That alone would make for an engrossing experience, but where the museum steps it up to the next level is how it puts a face on the victims. As the Nazis rose to power, society started to change. First "undesirables" were singled out. This included anybody not fitting the Nazi ideal of human perfection including the mentally deficient, prostitutes, homosexuals, so-called "lesser races," Jews, and anybody else who didn't measure up to their lofty standards. At first it was discrimination. Then it was segregation. Then it was loss of rights. Then it was detainment. Then it was imprisonment. Then it was extermination. It was a slippery slope that was systematically escalated with a growing frenzy of propaganda.
One of the examples they provided was a man who was accused of being gay. Apparently Cologne had a thriving gay underground back then, and suspected homosexuals were closely monitored. Since this man was married, there's no way of knowing if he were really gay, or somebody just accused him of being gay, but his entire life after being tagged is laid out in the documents which ultimately spelled his fate...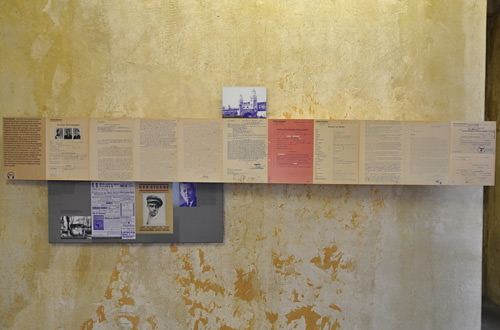 Here is where it would be really helpful to read German, but the audio guide explained that the man in question was detained three times before finally being send off to a concentration camp where he died...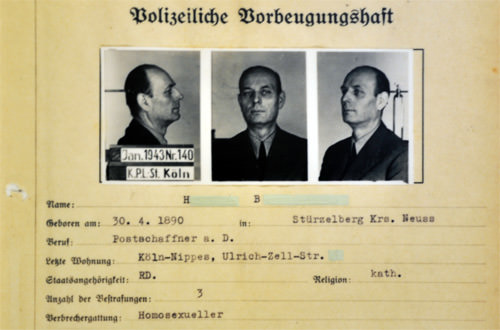 The next room is dedicated to Romani (labeled as Gypsies), who were ruthlessly persecuted by the Nazis. Family members are displayed on panels along with the documentation that was collected during their detainment...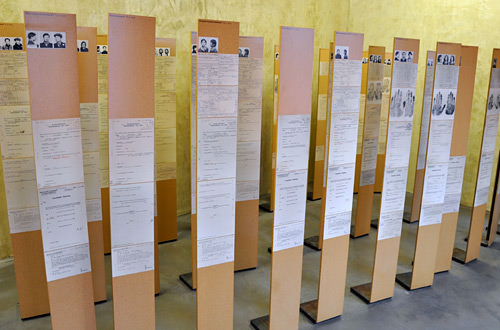 All the documents would seem like an unreal abstraction if not for the faces attached to them. Some of the faces are hard to forget, like this little boy, whose entire family was rounded up and put into a camp. He looks so... normal... just a kid who was probably playing with his toys or goofing off with his siblings when he was abducted. It's hard not to look at the worry on his face and try to image what he was going through. Which, I suppose is the entire point of the museum...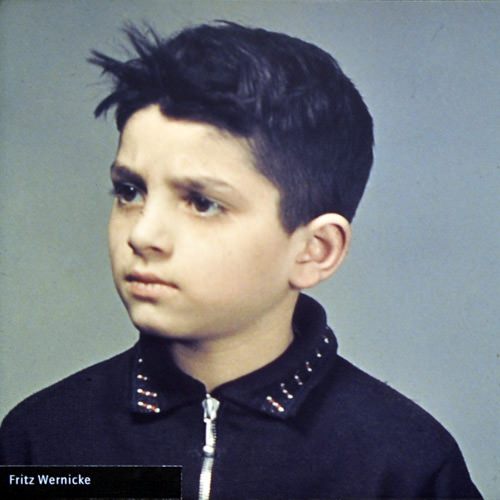 From the Romani you move on to a room for the Jews. As anybody who has even a rudimentary knowledge of World War II already knows, it was the Jews who were the biggest scapegoat for the Nazis as they sought blame for society's problems. In the years leading up to the war, they were continuously ridiculed and persecuted until ultimately their lives were deemed worthless, their existence unacceptable. Once identified as Jewish, a yellow star was sewn to your coat and your fate was sealed...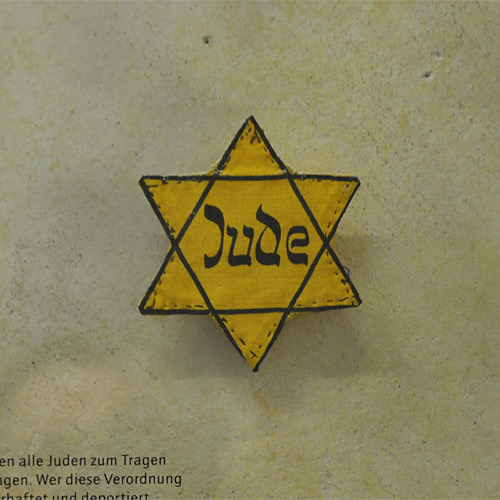 The museum also goes on to show how Germans who were opposed to the Nazi party were likewise persecuted and detained, then uses documents like food ration tickets and historic photos to provide a glimpse of what life was like for every-day Germans under Nazi rule...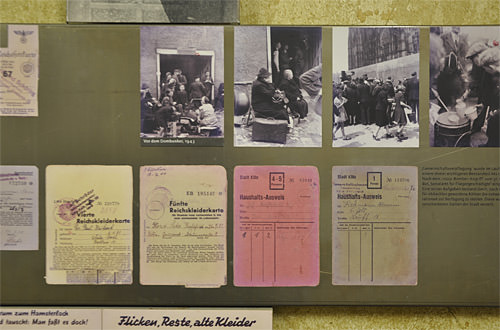 On the second floor the exhibits continue, culminating in a temporary collection that changes from time to time. During my visit, it was a display of art inspired by The Holocaust, including pieces which were created by school children...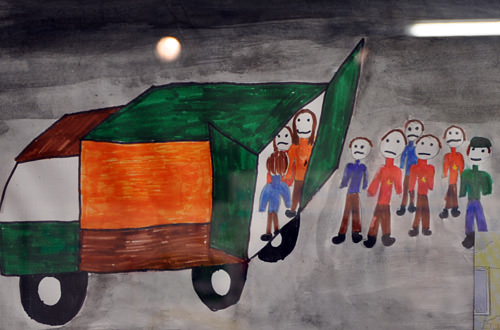 The NS Dokumentationszentrum is an utterly fascinating museum, and I highly recommend it. Two-and-a-half hours just blew by in no time at all, and I would have stayed longer if the building hadn't closed at 4:00pm (plan an early visit!).
I hadn't been inside The Dom (cathedral) in a while, so I bounced in before dinner. I don't care how many times I see it, the place always manages to take my breath away...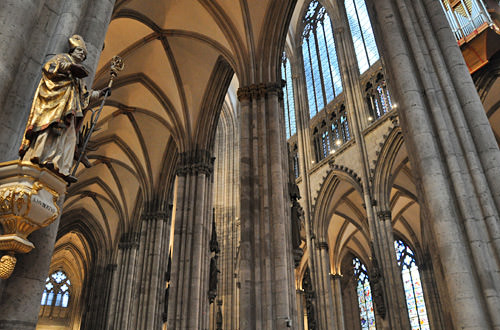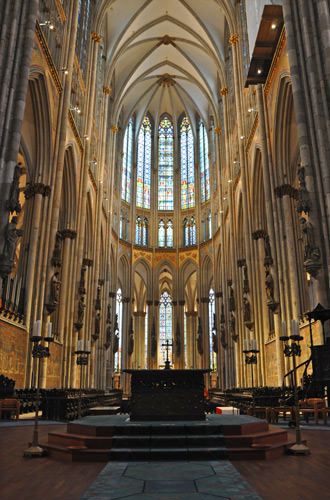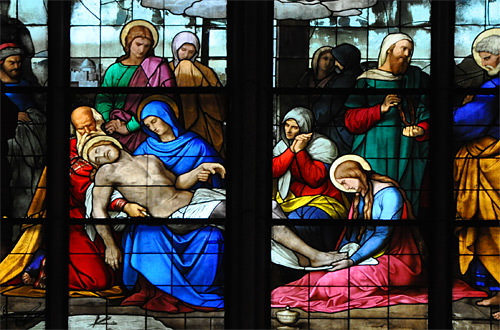 In reality, the interior of the cathedral is pretty dark and depressing. But seen through a camera with the ISO cranked up, it's stunning.
After pizza dinner followed by potatoes and mayo for dessert, I wandered through shops on touristy Hohe Straße until it started getting dark. Dusk is my favorite time in Cologne, because everything takes on a new life at night. For the photographer, it's magic...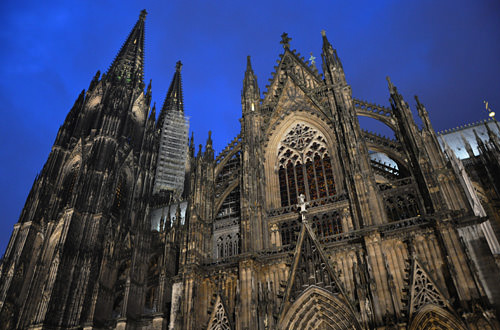 And thus ends my last day in Cologne.
How stupid would it have been to have missed all this because I stayed in my hotel room watching television?
A lesson to live by, I suppose.