Today was my busiest day at work, which was actually kind of nice because it blew by so quickly. Before I knew it, I was packing up my stuff and heading back "home" across the Rhine River. Tomorrow promises to be a fairly light day, so I'm hoping to be able to wander around the city a bit before it gets dark. I've been here many times, but never seem to get tired of exploring Cologne.
In what I can only describe as a life-defining moment, I got to meet OREO COOKIE MAN this morning!! Unlike so many celebrities you encounter, he is very cool in person, and was passing out various OREO products, which made him even more delicious. I wanted very much to give him a hug, but I was afraid he would break in half and spill his delicious cream filling everywhere...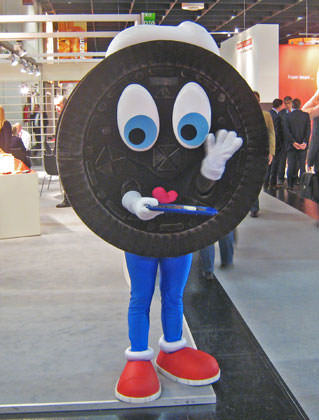 Speaking of delicious, my daily pilgrimage to the Merzenich bakery was rewarded with the biggest Spritzringe donut I've ever seen. It was almost twice as tall as usual, which led me to dub it ÜBER-SPRITZRINGE!!! Just look at my precious...
I didn't know if I should eat it or tag it and release it back into the wild.
Screw Lord of The Rings, THIS is the one ring to rule them all...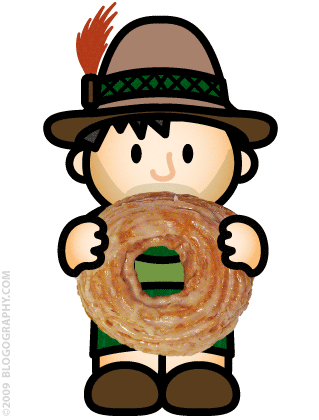 In even more exciting news, I picked up another photo for my Fahrt Collection. This one is a word I don't remember seeing before...
In German, they run all their words together to make really long words. But my vocabulary is mostly forgotten, so it's kind of hard for me to break it down and translate it to mean anything. I know Zug is Train and Fahrt is Journey. I'm pretty sure that Durch is Through... as in "durch die nacht" meaning "through the night." That would make this "Train Journey Through!" which doesn't make much sense. I'm guessing it's more likely meaning "next train doesn't stop" (this train passes through). Or perhaps it's like a catch-phrase meaning "You should travel by train!" (journey through trains).
Good thing my life doesn't depend on knowing what that sign means.
OR DOES IT?
Good thing my ride was on the opposite track.