At first I had typed "So here I am back home again..." only to remember that Cologne is not my home. I'm here for just one night so I can get packed up and fly back to my "real" home in the morning. While it will be nice to sleep in my own bed again, I am not looking forward to the 14 hours of travel I've got to endure to get there. Wah.
As I arrived at the main train station here, I overheard a young couple pouring over a train schedule saying "That's the Dusseldorf airport, we want Cologne!" In general, I tend to avoid tourists unless they are in some serious trouble, because it's been my experience that you just get screwed for trying to help out. But I was in a good mood, so I walked up to them and said "If you're wanting to get to the Cologne Airport, your best bet is to take the S13, and you can catch it right up there every 20 minutes or so." They turned and looked at me like I was from outer space before the girl said "But that's not on the schedule!" Trying to remain helpful, I replied "You're looking at a schedule for regional trains. The schedule for the local trains has a giant "S" printed on it. If you walk up to the next board, there should be an S-Bahn schedule there." Still more blank stares until the guy says "I think we'll just wait for a regular train." I had no idea what he had against local trains, and didn't want to start a debate over the subject, so I just said "Okay then, good luck!" and wandered off.
Will I ever learn?
My hotel is just two blocks from the train station, which is kind of a bummer because I've always wanted to experience McClean...
It's the "safe and clean toilets" alternative to the toxic waste assault chambers you'd usually find at a train station. And all at a bargain price of 1 Euro per flush!
As expected, Disapproving Woman was waiting for me...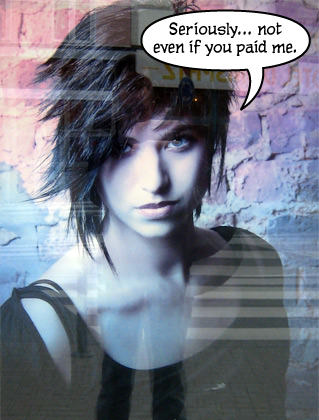 But what I didn't notice until today was that she's not alone...
OMG! IT'S GEORGE CLOONEY!! Far from being disapproving, he actually seems happy to see me...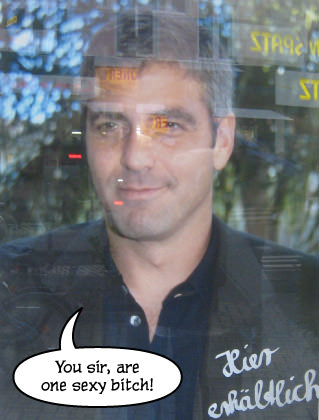 After my last cone of potatoes with mayo (= sob! =) and a Spritzringe donut, I decided to catch up on email and FaceBook. Surprisingly, FaceBook still thinks I'm in Spain...

Aw, they get all the sexy ads! Just look at how they sell their ice cream...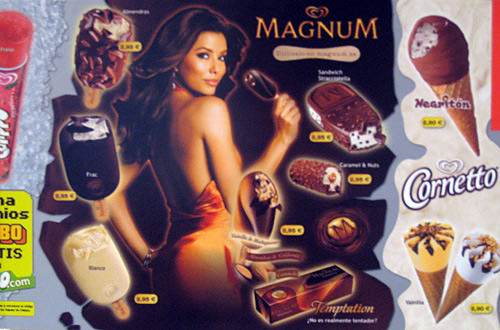 At least I think they're selling ice cream. This could be an ad for condoms.
And on that note, it's time for me to pack my suitcase and try to get some sleep.
When is somebody going to invent the Star Trek transporter in real life?