I'm pretty exhausted, so this Bullet Sunday may or may not make sense.
In other words, it's the same as every other day here at Blogography.
• Approval. If you were reading my blog last year around this time, you might remember Disapproving Man. He lived in a window I passed every time I walk to or from my hotel here in Cologne. On my way to work... he's there. Back from work... he's there. Out to dinner... he's there. He's always there. Always looking at me with that disapproving smirk, mocking me...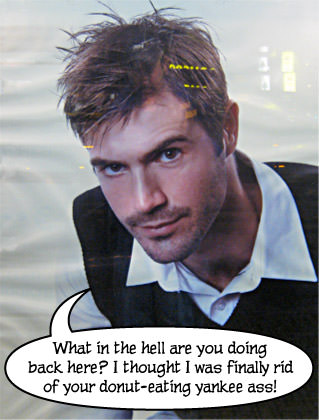 Well now Disapproving Man has been replaced by Disapproving WOMAN! Just look at her! She has that exact same smirk on her face...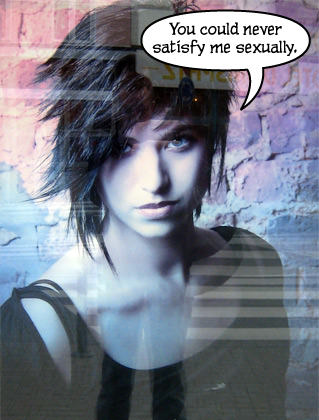 What a bastard she is! I don't know how I'm going to survive her glare of judgement first thing every morning!
• Psychotic. You may also remember that last year I got an official Kölner Karneval scarf. I wore it even though there was a clown on the thing because it made me look totally hot...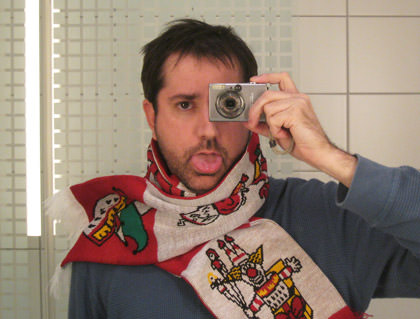 This year the scarf is even more terrifying. The clown isn't just scary, he's psychotic-scary. And not psychotic-scary in a good way either... it's more of a "I eat baby kittens and light things on fire" kind of pedophile psychotic-scary...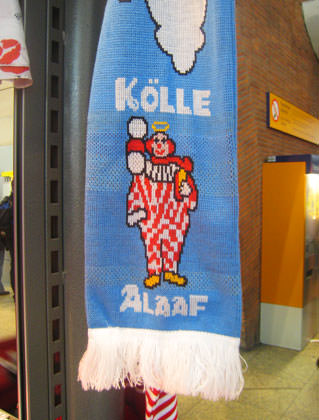 • Parenthood. Last Wednesday while I was at the Seattle-Tacoma International Airport waiting for my suitcase to arrive, I saw a baby trailing along behind her mother with a bottle in one hand, struggling to keep up. The mother wasn't paying attention because she was busy talking on her mobile phone. The baby wasn't too steady on her feet, and as she tried to move faster and faster to catch up with her mom, she lost her balance and face-planted on the floor. The mother turned around when she heard her baby crying, walked back to where she was, reached down and jerked her up by her arm, snatched the bottle off the floor, then proceeded to scream at the poor thing with "I'M ON THE PHONE!!"
Throughout the entire ordeal the only time she stopped talking on her mobile was to yell at her kid.
I was about as angry as I've ever been, and felt like shouting "SHE'S JUST A BABY AND DOESN'T UNDERSTAND YOUR SCREAMING YOU STUPID BITCH! TRY PAYING ATTENTION TO YOUR KID SO SHE DOESN'T KILL HERSELF TRYING TO KEEP UP WITH YOUR IGNORANT ASS!!!" And then I would have bitch-slapped the fucking idiot so hard her lips would have flown off. Why have a child if you're so self-absorbed that you aren't going to pay attention to it, then punish it for something that's your fault? Seriously. Mother of the year.
Anyway, after work today I wanted pizza, so I walked down Hohe Straße to get a slice from a shop I like there. It's Sunday, so most everything is closed, but I thought I'd walk around a bit anyways just to see what's new.
Once I got to the Lego Store, I turned around to head back, and noticed a man with a small child heading towards me. The little guy was trudging along like a champ as the father pointed out things in the shop windows for him to look at along the way. The man was very patient, taking small steps so the child could walk at a comfortable pace, and holding his hand the entire time.
It was hard not to compare this to my experience at the airport earlier this week, and it brought a smile to my face knowing that there are still parents out there who give a shit...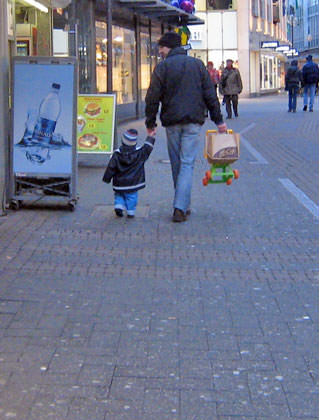 It reminds me of a line that Keanu Reaves has in the movie Parenthood which goes something like this... "You need a license to buy a dog or drive a car. Hell, you even need a license to catch a fish. But any asshole can be a parent." How true it is.
• Shitty. I'd just like to state for the record that the SwissCom wireless I'm paying ridiculous money for is sucking copious amounts of ass. The signal completely drops out every 5 to 10 minutes, which is really inconvenient while you're trying to coordinate work with your computer back home. If it were free, I wouldn't have much cause to complain, but it's something like 17 Euros a night, which is over $20 in US money. That's pretty heinous, even when the service is flawless, but the fact that it's complete shit is almost too much to bear.
And, on that note, I'm going to re-connect to the internet (AGAIN) so I can upload this nonsense and get to bed.
Tomorrow, there may be candy...