So TequilaCon 2009 is in Santa Fe.
To read about how that came about, Brandon has a story up on his blog.
But Brandon has a tendency to whitewash the more questionable aspects when it comes to recounting events like this, so I thought that I would fill in a few of the gory details that he's left out... BULLET STYLE!!
• Planning. I've already blogged about how Jenny summoned the TequilaCon Committee to Chicago for a pre-planning meeting. Only three of us were foolish enough to actually go... myself, Vahid, and Brandon. What I didn't mention is that Jenny showed up dressed in sun-goddess robes and insisted that we address her as "High Priestess Many Goats."
• Whiteboard. When I posted a picture of Brandon Photographing the Official TequilaCon Whiteboard, I blurred out the cities listed...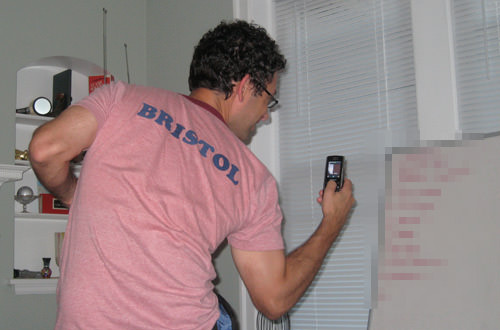 But now all can be revealed. Here are the eleven cities ultimately considered after hours of debate...
After some alcohol, Pac-Mac, and discussion, the final three locations were narrowed down to Vancouver BC, Las Vegas, and Santa Fe. After some alcohol, Pac-Mac, and a lot more discussion, Vancouver was axed because of passport requirements. That left Las Vegas and Santa Fe. After some alcohol, Pac-Man, SO much money, and a spinning whiskey bottle, High Priestess Many Goats declared Santa Fe the host city for TequilaCon 2009...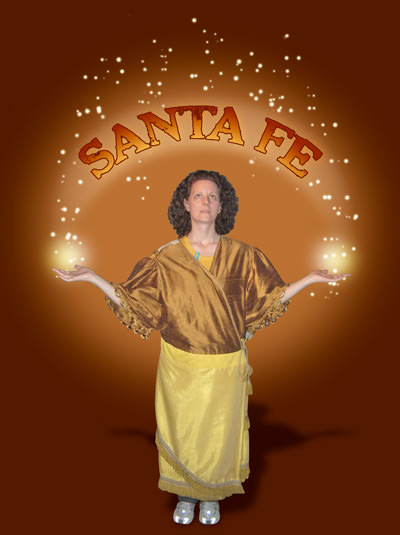 This is probably for the best, because Santa Fe feels more like a TequilaCon city, whereas Vegas is kind of obvious and commercialized.
• Drunken. When Brandon says that he put on the Sometimes Rabbit head and tried to get Jenny's cat drunk, it sounds like a clever allegory for setting aside the folly of one's youth and embracing the responsibilities of adulthood... but was, in fact, putting on the Sometimes Rabbit head and trying to get Jenny's cat drunk...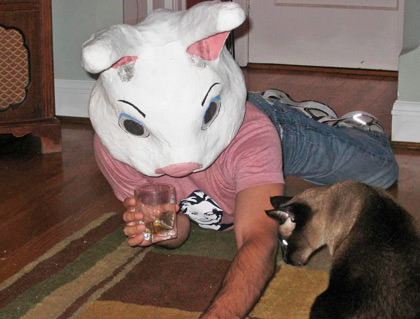 That's three bullets, which is probably three too many, so I guess that's all for today. Sometime in February, I'm guessing a venue in Santa Fe will be decided upon, and the official details will be posted so everybody can make their travel and lodging arrangements. In the meanwhile I urge you to drop by Jenny's blog if you are interested in the event so she can put you on the Official TequilaCon 2009 Mailing List...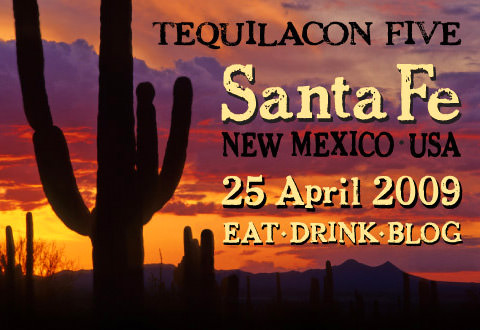 I've decided I don't want to be on the Official Mailing List. That way I can crash the party unannounced.