To be completely honest, I did not want to take this trip. I am so tired of traveling as to be near-catatonic, and it would be nice to just like to stay home for a while. But it's important for my work that I be here, so here I am.
Though, now that I'm back in Cologne, I realize that it's a city I feel completely comfortable in. So much so that it's almost like being home. I'm staying at my regular hotel in my regular neighborhood. I know where everything is. I know how everything works. I have friends in the area. I understand German accented English fairly well, and speak just enough of the language (albeit poorly) to get by. The only difference between here and my actual home is the clowns.
Yes, clowns.
For reasons that escape me, Germans love clowns (and David Hasselhoff, but that's another story... possibly related). And since the Köln Karnival is coming up, they're everywhere. You'll be walking around a corner and BLAM!!! There's one of those scary-ass freaky bastards staring at you from a shop window poster...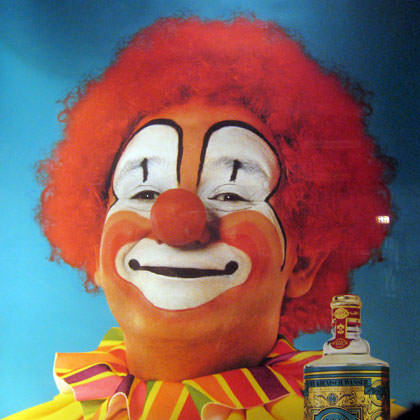 GAH!!!
It's things like this that traumatize my already-fragile mind and will one day send me over the bend. I'll see a scary clown poster one minute, then be running down the street naked screaming "DIE BOZO, DIIIIIIIIIEEE!!!" the next.
Sadly, unlike last year's drunken blog entry, I am too early for Karnival this time. I'm assuming this means there will be no Giant Flaming Wheel of Meat or attacks by transgender viking warriors to blog about.
That's a bummer, but I really have no cause to complain. My flight was awesome despite it being nine hours long. I didn't have to sit by any dumbasses or screaming kids. The movies I rented for my iPhone were all fantastic. My hotel had a room ready for me even though I arrived four hours before check-in. It doesn't get much better than this.
The only bad bit of news was that my luggage didn't show up... assumably having missed my connecting flight in Amsterdam.
But after having a wonderful dinner at the Hard Rock Cafe with some fellow Hard Rock fans, I opened the door to my hotel room and there it was!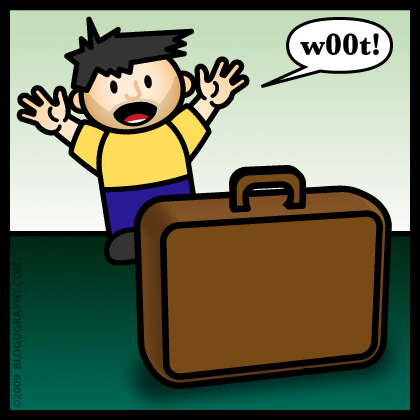 It's just like magic, and now I'm the happiest boy in the whole world!
Or at least in Cologne.
Given the clown density in this place, that's saying a lot.