Uh... yeah... I have even less time tonight than I did last night. Mostly thanks to Hewlett-Packard, because their disastrous B9180 printer was once again experiencing EPIC FAIL as I was trying to get everything finished up for my trip tomorrow. I was supposed to come home at 4:00 so I could pack my suitcase. But 4:00 became 5:00 then 7:00 then 9:00 then, finally 10:00 (at which point I pretty much gave up). Nice to know that my first experience with this piece-of-shit printer wasn't a fluke, and my new replacement is just as shitty. How HP can still be allowed to sell such garbage and get away with it is beyond me.
But enough about how much I loath Hewlett-Packard and their worthless products with every fiber of my being...
Let's talk about how much I hate the freezing weather here!
It was -12° F outside when I left work. Because it was late, there was already enough frost fallen on my windshield that I had to scrape down my car. But it was that kind of heinous frost that bonds with your windshield and doesn't want to come off, so I had to sit there with the defroster running for 15 minutes just so I could clean off a peephole to see out.
And winter is only just beginning.
Hard to believe that three months ago I was here...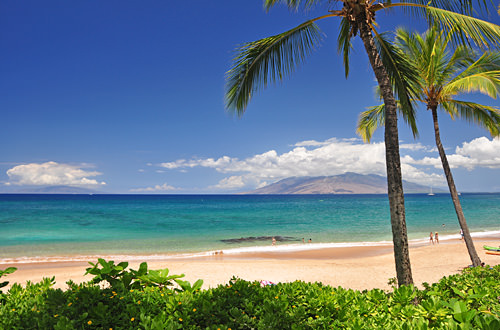 Why did I ever leave?
The last inbound flight arrived 25 minutes late tonight, but it did arrive, which means there's a plane to fly out tomorrow morning. Whether or not it actually leaves is anybody's guess.
And since I have to get up in four hours to find out, I'll be saying goodnight now.