Blargh. What a long and horrifying day.
Winter travel is not for the faint of heart. It almost always comes with delays, cancelations, unexpected problems, and even danger. I accept this, because I've been conditioned to expect things to go wrong when I travel. This way, I'm not disappointed when shit happens. In the event that everything goes right, then that's an unexpected surprise I can be happy about.
Today there were more than a few upset people... and even one girl who was screaming, crying, and acting generally stupid because of problems going on. By the time she got her cell phone out, handed it to the gate agent, and said "MY DADDY WANTS TO TALK TO YOU" I was very much amused. What? Her daddy has the ability to bend time and space? Shit happened... get over it and move on! Otherwise, do everybody a favor and DON'T TRAVEL IN THE WINTER MONTHS IF THIS KIND OF STUFF FREAKS YOU OUT! It's pretty much inevitable.
On my final flight, I was sat next to a bitch who thinks rules don't apply to her. When they announced for us to turn off all electrical devices for take-off and landing, she felt this obviously meant everybody else. I know this because she fired up her iPod Touch and watched movies and listened to music for the entire trip... from the minute we left the gate right up until the minute we parked. And it wasn't like she didn't understand it was wrong, because she did her best to hide it from the flight attendant every time they walked through the cabin...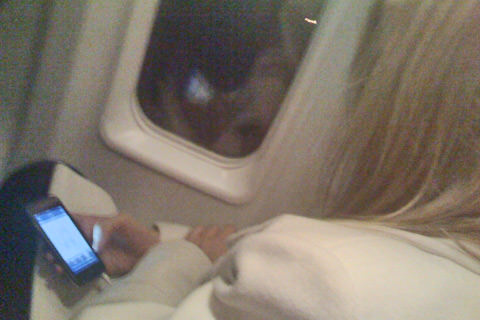 Well guess what, you piece of shit? You are nobody special. You have to follow the rules just like everybody else. And one day, when you sit next to a serial killer who thinks that trash like you shouldn't be fucking shit up for the rest of us, I will laugh my ass off when you're found dead in the gutter with that iPod shoved up your stupid ass.
I hate people today.
Probably because I'm hungry. I managed to grab breakfast, but didn't have time for anything else. By the time I got to my hotel, the restaurant had closed. Rummaging through my backpack and suitcase, I managed to find dinner...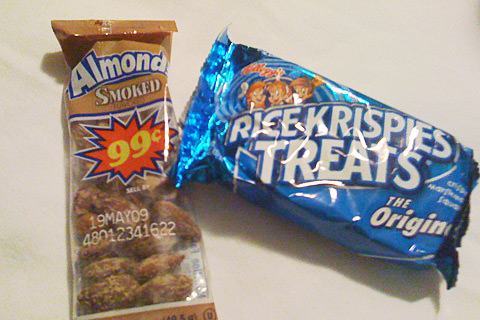 A smashed up Rice Krispies Treat I got when I was in Wisconsin, and an old package of smoked almonds I didn't even know I had. Yum. I'm sitting here typing this while eating "dinner" and drinking a complimentary bottle of water. Yes, you read that right, a complimentary bottle of water.
Do you know how often you can find a hotel offering complimentary bottled water?
Almost never!
Score!
And, speaking of score... as I was waiting at the airport for my first of three flights for today, I happened to notice that the iTunes Music Store had just added Sim City!...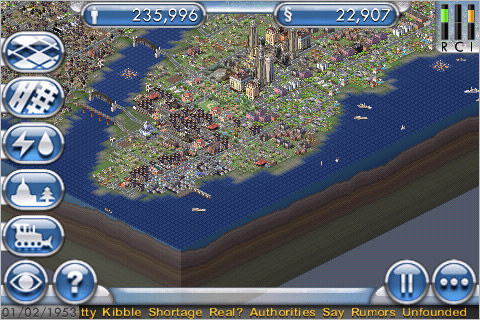 Sweet! This is one of my favorite games from back in the day when I actually had time to play video games. I was intrigued. $9.99 is a lot for a mobile game, and I wondered just how watered down it would be to fit on the iPhone. It's a pretty complicated game, so what would they take out? I was dubious about spending $9.99 to find out, but then I started browsing the screen snapshots and saw this...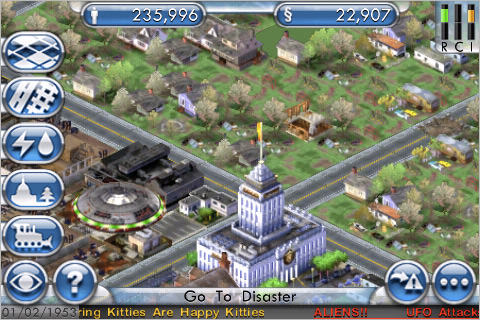 OMG! THEY HAVE THE ALIEN INVASION?!?
That's all I needed to know! I bought the game and started playing right away (welcome to New Dave City!). From what I can tell, everything I remember is there and better than ever. There's even animated bits, like the smog from my oil-burning power plant...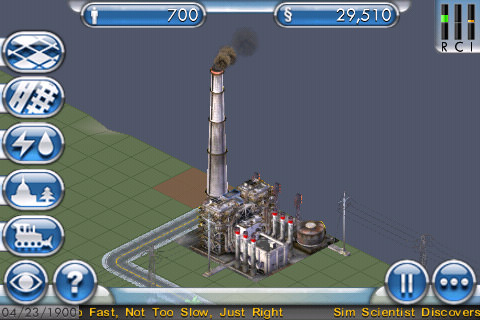 As I made my way through menu after menu... amazed at how faithful the game was to the original... I noticed that the World Landmarks are even there for you to build! Awesome! As I was paging through the options, I saw they had Neuschwanstein Castle. I thought this was kind of cool, because I've actually been there. So I built it...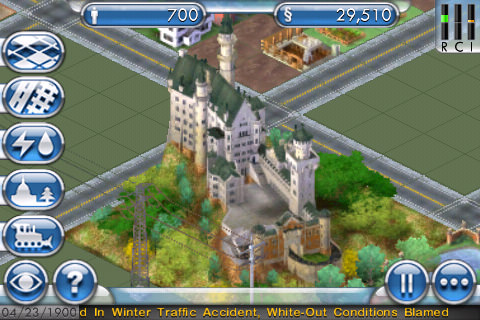 And then I noticed that I've been to a lot of the World Monuments in the game. Most of them in fact...
Schloss Neuschwanstein ✓
Arc de Triomphe ✓
Big Ben ✓
Brandenburg Gate ✓

Daibutu

Eiffel Tower ✓
Empire State Building ✓
Gateway Arch ✓
Great Pyramids ✓
Hagia Sofia ✓
Jefferson Memorial ✓
Lincoln Memorial ✓

Melbourne Cricket Ground

Notre Dame ✓
Old State House ✓
Parthenon ✓
Quincy Market/Faneuil ✓
San Francisco City Hall ✓
Sphynx ✓

St. Basil's Cathedral

St. Paul's Catherdral ✓
Statue of Liberty ✓

Sydney Opera House

Taj Mahal

The Alamo ✓
Trafalgar Square ✓
United Nations ✓
United States Capitol ✓
Washington Monument ✓
Westminster Abbey ✓
White House ✓
My mission is now clear. I need to finish off this list! A trip to Australia would get me the Sydney Opera House and the Melbourne Cricket Grounds. Moscow for St. Basil's. India for the Taj Mahal. And, if by "Daibutu" they mean "Daibutsu"... as in the famous Kamakura Daibutsu in Japan... then my list is complete!
At least I now know where my next vacations should be.
Yikes.
I have to get up for work in four hours. Yet another sleepless night.