Today I made time to hang out at Disney Studios here at Walt Disney World. This park doesn't have a heck of a lot going on (except the Tower of Terror), so I'll pick five things.
#1... Somebody should tell the Disney Parks Division that the Disney ABC Television Division canceled Pushing Daisies, because there are still posters up here. I remember the same thing happening when my favorite show ever to air on television (Jeremy Piven's Cupid) had been canceled, but posters were still advertising it in Disney World. Kind of lame. And, given how much I love Pushing Daisies, kind of painful too...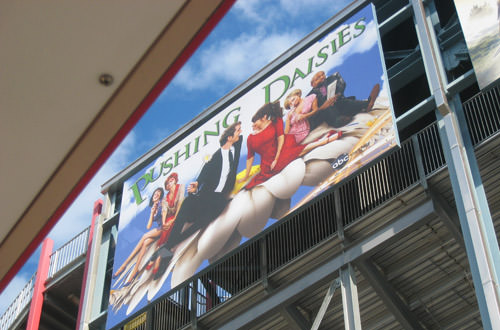 #2... Somebody needs to replace the dead props on the backlot tour. When the highlight of your collection is two fiberglass planes from the movie Pearl Harbor that are falling apart, you've got problems. Some of the props just need maintenance, badly. Like poor Max from Flight of The Navigator. He's supposed to be a cool chrome silver, but look at him...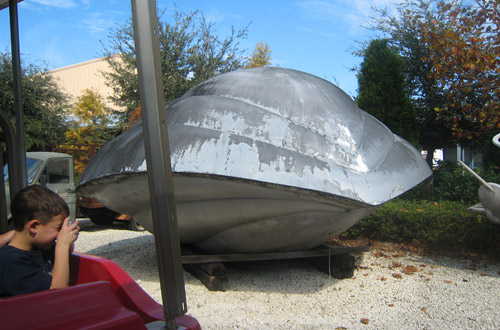 #3... The newest "ride" at the park is "Toy Story Midway Mania" which is kind of cool. You zip around in cars with your pop-gun playing various arcade games. The way they manage to tie your gun to the computer-generated paint splats, rings, and other projectiles is very well done. The wait is regularly 90 minutes or more, so this should be your first Fast-Pass destination of the day...
#4... This is the park where you get to meet my favorite Pixar character, Sully, from Monsters, Inc. IF he's not out on a parade float somewhere...
#5... The big attraction here for the holidays is the Osborne Family Spectacle of Lights. Jennings Osborne from Little Rock, Arkansas, used to decorate his house with millions of lights for the holidays, but his neighbors sued to have them shut down (the story is here). When the people at Disney World found out about it, they contacted him and had the lights moved to the "Streets of America" section of Disney Studios so millions of people could enjoy them...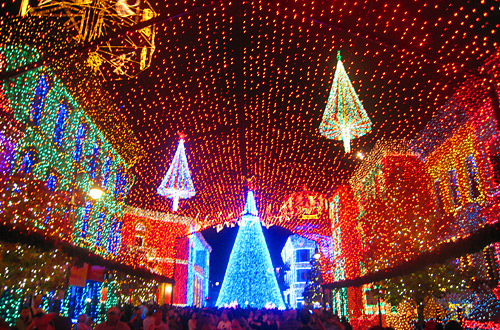 And that's all she wrote. Tomorrow is my last day.