A sad Bullet Sunday, as I bid adieu to Florida.
It's my last day in The Happiest Place on Earth. And I have no internet here at Disney's Wilderness Lodge. I can't figure out how this could be the happiest place on earth if there's no internet. Hopefully this will all be sorted out in the morning, because I can't post this entry from my iPhone.
• Epcot! I saved the best for last, because today was the one day that I didn't have any work scheduled. To me, "the best" is Epcot, because there is so much there I like to see and do (plus it has Soarin' and Mission: SPACE in it, my two favorite rides after Expedition Everest in Animal Kingdom). Lucky for me there were flawless blue skies as I was walking around World Showcase...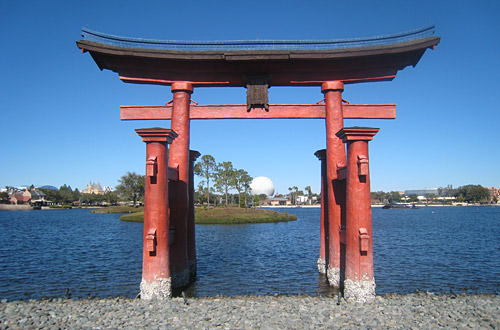 Unluckily for me there was a cold wind blowing all day long. By dusk, it was positively cold out, and I ended up having to buy a new Mickey Mouse hoodie to stay warm. I hate it when that happens.
• Italy! This is the second time that being at Epcot has been a sad experience...
It reminded me of a trip to Orlando I was taking on the day it had been reported that the Princess of Wales had been in a car accident in Paris. I boarded the plane hearing only conflicting reports and not knowing whether she was dead or alive.

Until I landed, of course, because the airport was filled with the sad news that Diana had not survived.But it didn't really sink in until I was at Disney's United Kingdom Pavilion at Epcot the next day. Since the attraction is literally built and staffed to be a piece of the UK, it was almost like being there. The British workers were devastated. There were flowers everywhere. Pictures of Lady Di were displayed in all the shops. The park was crowded but nobody was speaking. Even kids who are usually running around going nuts were quiet and restrained.

It was a profoundly sad experience visiting the "Happiest Place on Earth" yet being surrounded with sorrow.
As I walked through the Italy Pavilion, I saw the Dodges Palace replica and the Campanile di San Marco (bell tower) and was reminded about the terrible flooding happening in Venice back in the "real" Italy. From what I can gather, the city will be getting back to normal soon... I certainly hope so, because nothing at Epcot can compare to the real thing...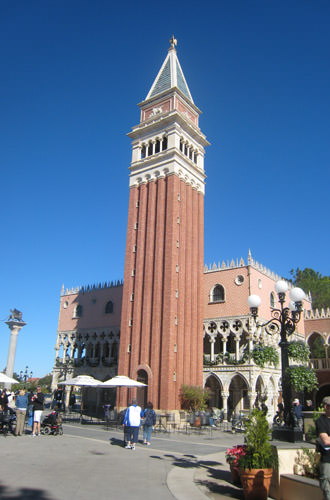 • China! When I was in the "real" China, I went to visit the Temple of Good Harvest, only to discover it was closed. The Epcot version is probably as close as I'll get to be able to go inside of it. This kind of bums me out, but it's better than nothing. And, unlike the original in Beijing, this one has a movie inside!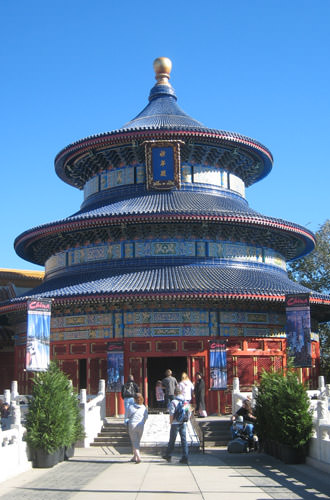 • Mexico! In order to promote eating at the Epcot restaurants, Disney has a package where you get guaranteed seating at their "Candlelight Processional Concert" when you purchase a dining package. The one I got was for the "San Angel Inn" at the Mexico Pavilion. Once I saw the menu, I was disappointed that there wasn't a single vegetarian item on it, but the waiter tossed out some options for me, which was very cool. I had the cheese enchiladas in a verde sauce and they were EXCELLENT. Seriously, one of the best Mexican meals I have ever had. I love happy surprises like this. I guess Disney really IS a magical place after all...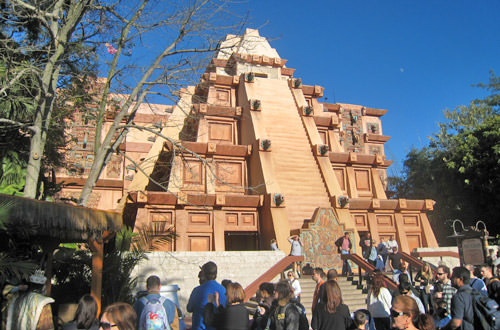 • Candlelight! This time of year, Disney parks are overrun with Christmas. But not "real" Christmas celebrating the birth of Jesus... it's the "non-religious" Christmas filled with candy canes, Christmas trees, and Santa Claus. It's all very politically correct, but I guess that's what it has to be in order to appeal to the widest possible audience. The place that "real" Christmas comes into play is the Candlelight Processional Concert, which is where a guest narrator tells the story of Jesus in-between a choir and orchestra playing religious Christmas music. I'm not a Christian and don't celebrate Christmas, but enjoyed the festivities just as I would when visiting any foreign culture. It was a pretty good show, and a fantastic experience. If you're ever in Epcot during the holidays, I highly recommend it... regardless of your religious affiliation...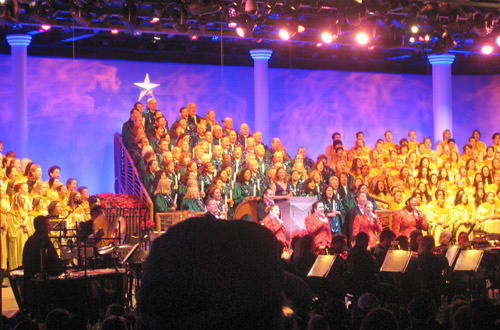 And thus ends my Disney Holiday. I am not looking forward to the trip home tomorrow, but at least it's a direct flight!