The snow is piling up and depressing me, so I thought I'd write a few reviews to take my mind off things...
w00t! It's Movie Review Time!
All the rumors you've heard are true... Slumdog Millionaire is a wholly remarkable film that is not to be missed. In a day and age when the world seems full of hate and anger and is teetering on the edge of annihilation, having a movie filled with hope, love, and life is a refreshing (and much-needed) change...
A film about a poor street-kid who surprises everyone in India with his success on a popular game show, I loved Slumdog Millionaire, and can't wait to see it again. Danny Boyle is sheer genius, but I expect nothing less from the man who brought us the amazing film Millions, another long-time favorite of mine. Bravo, Mr. Boyle!
w00t! It's iPhone App Review Time!
I'm a world geography junkie, so I was pretty psyched when I saw that there was a new trivia app called "inFact World" available at the iTunes Store. It's pretty sweet, and quizzes you on continents, flags, languages, bodies of water, and other nerdy stuff. The interface is dead-simple and easy to use...
The app sells for $2.99 and provides endless educational fun! Available at the iTunes Store for iPhone and iPod Touch.
w00t! It's DVD Review Time!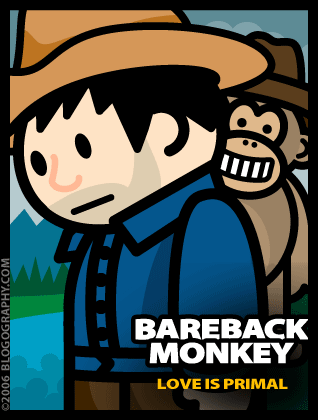 Shortly after posting about how much I hated Brokeback Mountain (which I maintain is one of the most boring, unsympathetic, bloated, overrated piece of cinematic FAIL ever made) I got an email from a reader telling me that I should try Yossi & Jagger, which they felt was a much better film along similar storylines.
Always looking for a good movie to watch, and not having a problem with gay-themed films (on the contrary, flicks like Philadelphia, The Birdcage, Longtime Companion, and Jeffrey are classics)... I decided to investigate further, because I had never heard of Yossi & Jagger before. What I found was a bunch of promotional images which led me to believe that it was just a lame excuse to parade man-candy around in army gear for some kind of queer military fetish soft-core porn. I decided to take a pass.
Fast forward to last week while I'm killing time at the airport, and I run across an article called "hidden gems on DVD" (or something like that) and lo-and-behold there's Yossi & Jagger. Since I had seen other films on the list and enjoyed them, I thought I'd give it a try...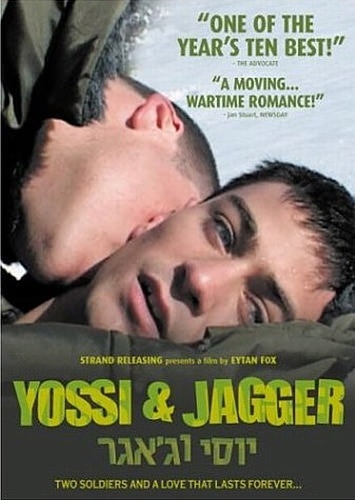 It was a brilliant, but odd film.
Odd because it's an Israeli film about the armed services, but doesn't have any kind of political agenda. Odd because it's a film about gays in the military, but isn't trying to make any statement about it. Odd because it's a gay love story, but doesn't come from an exclusively gay point of view. Very odd because it's less than an hour long.
Yossi is a company commander in the IDF who is calm, reserved and very private. Jagger is Yossi's subordinate platoon leader and is much more open and less guarded. Somehow they end up together, and this film is kind of a "day in the life" that's filled with humor, compassion, and tragedy. Apparently Israel doesn't distinguish between gays and straights when it comes to their mandatory military service, which is an interesting part of the film. You get the feeling that some of the other characters know something is going on between Yossi and Jagger... but none of them really care. All they care about is having superior officers that are competent and are looking out for them, which is the entire point, I guess.
Yossi & Jagger is a touching and entertaining love story that made for a great short film. As if that weren't enough, it's supposedly based on a true story. If you're looking for something different, it's worth a rental. (DVD is in Hebrew with English subtitles and available at Netflix).
w00t! It's Early Bedtime!
Because I have to be up very, very early in the morning...