Home for Bullet Sunday... isn't that nice?
• Eartha Kitt. I was very sad to learn that Earth Kitt had died. I may not have seen her in much, but she sure left a big impression where I did see her. To me, Julie Newmar is the Catwoman from the campy 1960's Batman series, because she was the first I saw in the role, and played it far more often than Lee Meriwether or Earth Kitt ever did. That being said, there's no denying that Eartha Kitt was the most perfect for the role. She was a cat-woman in real life, and was able to slink herself into the character perfectly... errr... purrrrfectly...
I am (surprisingly) too young to remember Eartha in her earlier work as a sultry songstress, but caught her from time to time in movies like Boomerang with Eddie Murphy. She may have only had a small role, but was easily the most memorable part of a forgettable movie (I can still hear her calling "Maaaaarrrrrrcuuuuussss!")...
But my favorite Eartha Kitt character would have to be Yzma from Disney's The Emperor's New Groove, which was a match made in heaven. She could have easily just sleep-walked through this role but, as anybody who's seen the film can attest, she put in 110% into the character and totally killed...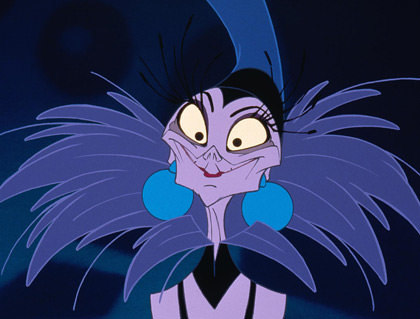 When Disney made a cartoon series spin-off The Emperor's New School Eartha continued playing her character, which was really cool of her (considering lead David Spade was not so accommodating). And don't think that the story-writers and animators of the series didn't know how to take advantage of Eartha's talents. They knew exactly who the star of the show really is. In the episode "Yzmopolis" from the iTunes Store, you can see Eartha Kitt making Yzma totally her own (the title song might also be on YouTube for a while)...
I believe the cartoon was still in production when she died, so I have no idea what Disney is going to do. If they're smart, they'll just count themselves lucky that they got two seasons from Eartha Kitt, and shut down the show. Or, if they're intent on continuing the show without her, they should find a new villain. Nobody can replace Eartha as Yzma.
• The Wilderness. Last night I got my third email and second comment asking where I stayed when I was in Walt Disney World. Well, I stayed where I usually stay... Disney's Wilderness Lodge...
I have stayed in many of the Disney properties, and The Wilderness Lodge is my most favorite from my top five...
Despite it's popularity, I am not a fan of the upscale Grand Floridian Resort (it's nice, but the decor and eateries just aren't for me). For the budget-conscious, I like the two Port Orleans hotels quite a lot. For the really budget-conscious, the new Pop Century hotel is pretty cool. But, then again, any of the "Disney All-Star" value hotels are a good bet (you can choose from Sports, Movies, Music). They're fairly inexpensive and frills-free, but you get all the perks you'd get at even the most expensive Disney hotel... including free transportation between the parks, purchases shipped to your room, and Disney's "Extra Magic Hours" which allow you to get in early or stay late at one of the parks each day. Sure you can stay outside of Disney World and save money, but the added expense of staying on-site is well worth the cost when you consider all you get in return. In all honesty, I consider the resort-stay to be just as important to the Walt Disney World experience as visiting the actual parks! If you're planning a trip, postponing a visit so you can save enough money to stay at a Disney World property is about the best advice I can give.
• No Talking. I have pretty much given up on going to movies because the audience is always filled with COMPLETE AND TOTAL DUMBASSES who ruin the experience by talking. And, thanks to mobile phones, it's gotten far worse. Every time I've gone to a movie lately, I've been distracted by a sea of glowing phones from idiots TXTing the entire time. Or fucktards who don't silence their mobile, and then it goes off during the film. And, of course, they ANSWER it. Why would I want to pay $8.00 plus another $10.00 for overpriced snacks to be tortured like that? Well, it was only a matter of time, but somebody in Philadelphia finally got himself shot because he wouldn't shut the fuck up during a movie. Naturally, I'm horrified at such a display of violence... but secretly I'm wondering why it took this long to happen. I'm also relieved that it wasn't me doing the shooting, because heaven only knows I've felt like it enough times. Guess it's a good thing I don't own a gun?
Now I suppose I should be getting ready for work in the morning. Bleh.