One of my guilty pleasures is waiting up on Saturdays until the latest batch of postcards at PostSecret are posted. This amazing site, which started out as an art project, is now a brilliant microcosm of the secret lives that people are living. Originally, artist Frank Warren passed out a bunch of postcards asking people to tell an anonymous secret about themselves and mail it in for his experiment. After the last of the postcards had been handed out, he thought that was the end of it... but the postcards kept coming. Word had spread about what he was doing, and soon postcards were pouring in by the thousands.
Some of the secrets are shocking. Others are funny. Many are quite sad. A few are amazingly optimistic and hopeful. All of them are interesting. Though I do think a good portion of them are not true. People try to make up these extravagant secrets to assure themselves of getting their postcard printed. But, even then, it's still an interesting project.
Since I was working in the Fayetteville area today, I headed up to Bentonville, Arkansas (home of Wal-Mart!) so I could attend a PostSecret exhibit at the temporary location for the Crystal Bridges Museum at "The Massey"...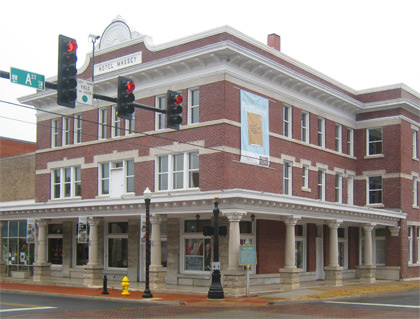 My hat is off to the brilliant organizer of this event. They had a small space to work with, so they chose a collection of small items... postcards... to fill up the space and make a really satisfying exhibit. Many of the postcards are displayed on glass panels, allowing you to see both sides of some of the cards...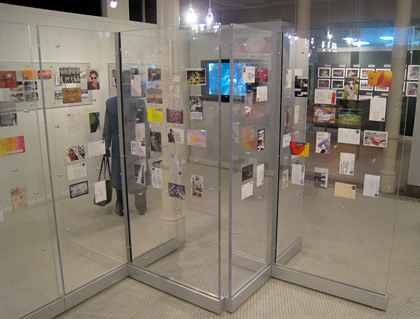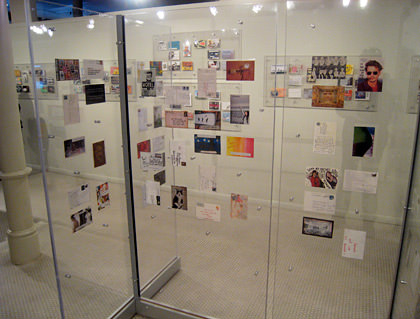 The amazing thing is that most all of the postcards are one-of-a-kind originals that are works of art in their own right. Some of them are quite extravagant, but others are just cool for the simplicity of their message...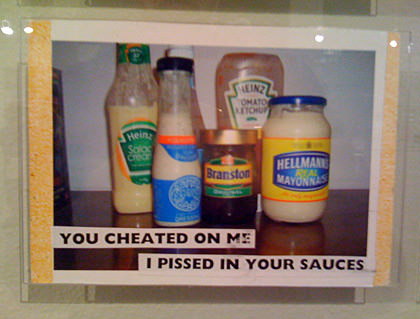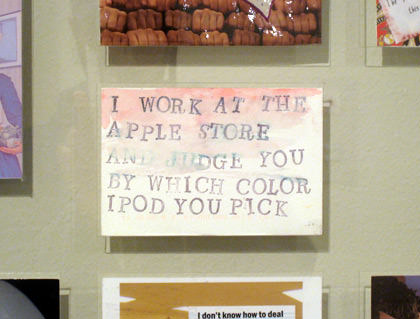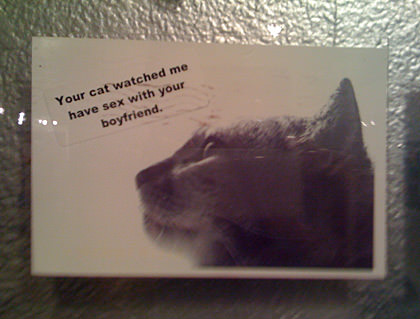 If you are in the area, the exhibit is definitely worth a visit, and is running through February 1st. Information can be found at the official web site. In March, the exhibit will move to California.
In the second room of The Massey, they had an exhibit about the construction of the new "Crystal Bridges Museum of American Art" opening in 2010 in Bentonville. The plan for the building is amazing...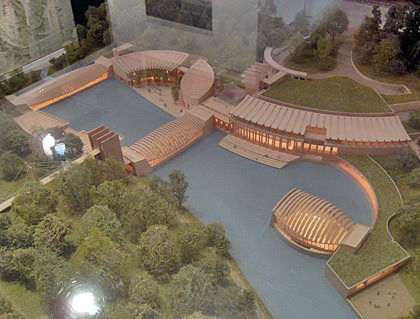 Hopefully I'll be able to see it one day after it has been completed.
After the exhibit I had some errands to run for work, and saw two things which I found interesting.
The first was this... which probably doesn't mean what I think it does...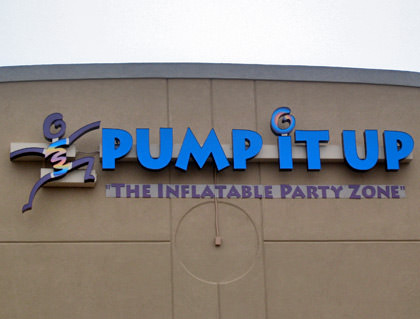 ... but wouldn't it be cool if it did?
The second makes no fucking sense at all...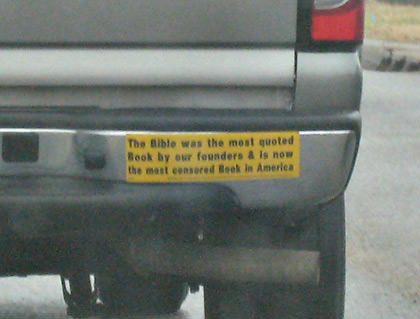 "The Bible was the most quoted Book by our founders and is now the most censored Book in America"
Given that it's also the most popular book in America, I hope you can forgive me for saying you're full of shit.
How in the hell is a book you can buy almost anywhere... a book which has thousands upon thousands of buildings dedicated to its teachings... a book that the majority of Americans use as the backbone of their religion... be censored?
Stupid shit like this pisses me off, and only goes to show that these idiots have no fucking clue about how moronic they sound when they cry foul under the guise of faux-persecution. People need to get it through their heads that just because we have a separation of church and State in this country doesn't mean that you're persecuted or censored! It's not like people are having to meet in secret hideaways at midnight to discuss The Bible. All statements to the contrary are just absurd.
People have different beliefs in this country. Such diversity is the very foundation of the freedoms we enjoy. As such, our government must represent all the people... not just a section of it.
Forcing your beliefs on other people is where the real persecution would lay... so that's why you can't teach The Bible in public schools and what-not. You are still perfectly free to teach it at home... or your house or worship... or whatever private venue you choose... so claiming censorship is positively stupid. Nobody sends in the secret police to arrest you if you crack open The Bible in your own home or send your kids to Catholic School or attend worship at your synagogue or hold a Christian sing-along in your church or whatever. So stop playing the victim! The only people buying this bullshit is other whack-jobs who don't understand what real censorship and persecution actually is.
As you can tell, I am so weeping for the oppressed majority.