GAH! I FLY OUT IN TWO DAYS!! What am I doing writing Bullet Sunday when I should be washing clothes, packing my suitcase, and getting my work finished up?
• NaBloPoMoBlahBlahBlah. This is the last day of National Blog Posting Month, better known as NaBloPoMo. If you join up, you're supposed to post every single day in November. Congratulations to everybody who made it, and a special thanks to those who decided to make their daily post be about how tough it is to be doing a daily posts for NaBloPoMo. As somebody who posts every single day of the year, I feel your pain.
• Revenge! On occasion I write bits and pieces for the awesome news site GEEKS OF DOOM! under the name "Bad Monkey." Today I joined in on a Geek Round Table discussion on "best payback moments in film." You can check out our answers (and suggest your own) by clicking on this link.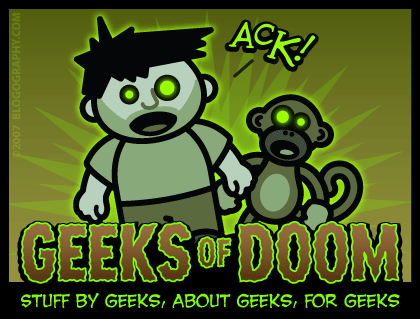 • Dibs! My latest food addiction is DIBS brand ice cream snacks. They're horrendously bad for you, but oh so delicious. My most favorite would be the Nestle Crunch Dibs. Vanilla ice cream drenched in chocolate and rice crispies...
Looking at the Nutrition Facts is a bit scary. NINETY-FIVE PERCENT OF YOUR DAILY SATURATED FAT VALUE?
So basically, these things will kill you... but what a tasty way to go.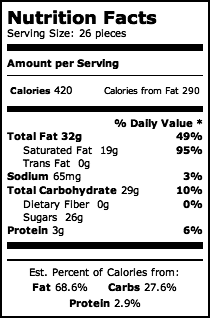 • Steamer. Knowing that my site is well-indexed by Google, I thought that I would spare people the agony I've gone through after buying a Hewlett-Packard Photosmart B9180 Printer when people go searching for reviews. This is unquestionably the worst electronics purchase I have ever made. Ever. And that's saying a lot, because I've invested in a lot of technology over the years...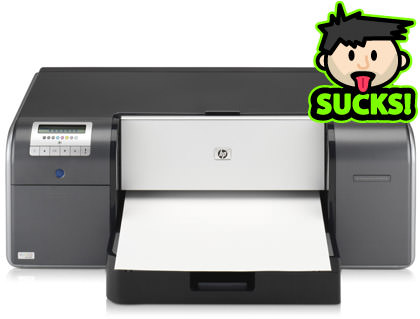 When I say that the Hp Photosmart B9180 printer sucks ass, I mean that it sucks ass on an epic scale. In fact, it goes beyond sucking ass. It has reached EPIC FAIL. I've had problems with this piece of shit printer from DAY ONE. Carriage stalls... print-heads dragging across the paper... mysterious color shifts... suddenly printing black as gray... print jobs canceling half-way through for no reason... and loads of other stupid crap.
Multiple calls to Hewlett-Packard "support" resulted in nothing being solved. For ANY of the many problems I've had.
After a year of suffering, the pile of crap finally died completely. I would rather eat a gallon of lard than to EVER buy anything from HP again, but then I discovered something strange.
This printer, which you can get for $560 if you look around, comes with a full set of inks, valued at $260, bringing the actual cost of the printer itself down to $300. When I hold that up to the $600 in spare ink cartridges I have sitting in my filing cabinet, I didn't have much choice but to buy a replacement. It was my cheapest option.
And guess what?
STILL a pile of shit.
I'm still having random and inexplicable problems that I can find no way of solving. I'd call HP "support," but I already know that would be futile. Their "support" blows donkey. Thankfully I was smart enough to buy "lemon insurance," so we'll see if I can get it exchanged for yet another B9180. Third time's a charm? Unlikely, but whatever.
So now I know... better to kiss off $600 in ink than to ever trust your money to a Hewlett-Packard piece of shit printer.
And to anybody who comes here via Google looking for buying advice? FOR HEAVEN'S SAKE, DON'T PURCHASE THIS PATHETIC EXCUSE FOR A PRINTER!!
And, on that happy note, I'm off to bed.