After two weeks of unbearable dietary restrictions (with only a few minor infractions), I finally got to the doctor for testing so I could eat again. I celebrated by getting a haircut and eating a chocolate pudding.
The haircut was essential because I don't want to have to mess with my stupid hair while on vacation. I was very close to just taking the clippers and scalping myself, but nobody wants to see that. Instead I went to "MasterCuts" and had them chop me up.
More on that in a second.
The pudding was equally essential because, hey, it's been two weeks.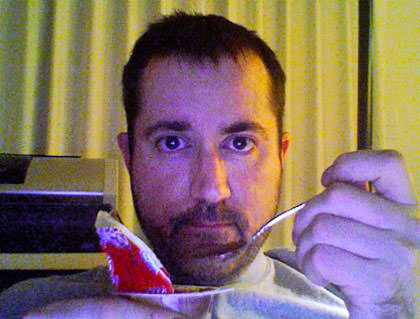 No pudding ever tasted so sweet.
And now back to MasterCuts...
For years now, I've been going to a barber shop in East Wenatchee whenever I'm home. I prefer a barber shop over a "hair salon" because it's no-nonsense, and I'm a no-nonsense kind of guy. But today when I went there for my haircut, it had closed down. The shop was vacant. Not knowing what else to do, I went to the mall and found... MasterCuts.
There was only one woman working the shop, and she said it would be a 45-minute wait because she was giving a perm. But "45 minutes" was optimistic because the old woman with the perm wanted to talk.
And talk.
And talk.
And talk.
And talk.
Explaining how she wanted to have her hair cut was, I shit you not, a ten-minute conversation. And then, after her perm and haircut were done, SHE DID NOT LEAVE! She wanted to keep talking, despite the fact that I was sitting there impatiently waiting.
Thus taking me an hour to get a 10 minute haircut.
Well, never again. What I need is a Flowbee.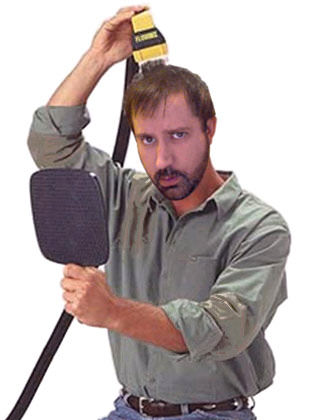 Hook that sucker up to my vacuum and I'm good to go, baby! No need to worry about where I'm getting a haircut because I'll cut my own hair!
Except the Flowbee with the Super Mini Vac is a whopping $99.90 plus shipping charges.
That's a lot of money, so maybe I need to hold a raffle. Everywhere I go on the internet and on Twitter, people are asking for money for something, so why not me? I'll come up with awesome prizes and sell $1 tickets until I've sold $116 worth, at which time I'll draw names. THEN, when I get my Flowbee, I'll take a video of me giving myself a haircut... instant blog entry! Sweet!
Blogging is so awesome.