• Shopping. Just a quick note... I am on vacation for two weeks starting Wednesday. Any orders placed at the Artificial Duck Co. Store after tomorrow (Monday) will ship when I get back on September 26th.
• Vacation. In other news, OMFG! MY VACATION STARTS IN THREE DAYS!!
• Palinmony. Umm... is Sarah Palin ever going to agree to be interviewed... BY ANYBODY?!? What the hell is she hiding that she won't even appear on FOX News where they're positively wet over her? Are people seriously going to vote for Palin based on a couple of speeches alone? If she somehow makes it to the White House, she'll be closer to the presidency than any Vice President ever, shouldn't we know her answers to the big questions? Or are the Republicans so confident in their zombie minions to not give a shit, that she's going to be off-limits until election day?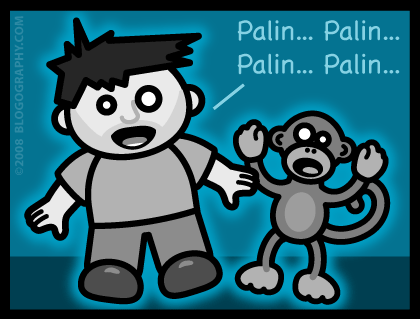 • Britcom. A couple people asked me about a reference to Gavin & Stacey in my entry yesterday, which is a British television series that has just started showing here in the US on BBC America. I'm a huge fan of British comedy, and love it. It's so rare to find a show now-a-days where the lead characters are actually... nice... sweet even... and it's a refreshing change (especially with the Pushing Daisies premiere so far away). If you don't get BBC America, you can buy episodes at the iTunes Music Store. But check it out quickly before they start showing the sure-to-be-crappy American remake that they're working on...
• Rebate. When sending in for a mail order rebate, I wonder what the national average is in actually getting your money. Because I'm running at about 50%, which sucks ass. There's always some lame-ass excuse... "we never received it" or "that rebate expired" or "you didn't include all the required materials" or some other bullshit that's either an obscure technicality or an outright lie. Companies come up with rebates that they never intend to pay out, and I don't understand how this is legal. I just sent in an $80 rebate for SanDisk memory cards and a $75 rebate for AcuVue Contact Lenses... will either of them pay their promised rebate? Here's hoping.
My next Bullet Sunday will happen while I'm far away from here. Time to start packing a suitcase, I suppose.