Taking a bad situation and making the best of it, my unexpected trip to Portland ended up being a great excuse to email Vahid, Lewis, and Blair for a last-minute dinner in the City of Roses. Thanks to Twitter, Miss TSM_Oregon herself (Tracy) saw that I was in town and was kind enough to join in as well.
When I stop and think about it, this is pretty amazing. Just four years ago, all the travel I do made for a life of loneliness and isolation. Now, thanks to blogging, there's someone I know everywhere I go. A last-minute trip to Portland is no longer just a chore to I have to get through, but an opportunity to meet up with friends. Friends I never would have met if not for writing here at Blogography and getting involved in the PRB.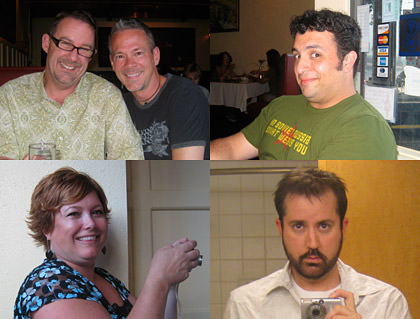 Since I live in a tiny town where "ethnic food" is considered to be a burrito with extra cheese, Vahid was kind enough to suggest Indian for dinner, which sounded perfect. I stuck to my restrictive diet as best I could, but the food at India House all sounded so good that there was no way I could settle for a stupid salad, and ended up having their Vegetarian Sampler Platter. Delicious.
My diet already blown by eating gluten (beer and naan) and cooked vegetables (everything else), Vahid decided to exploit my love of gelato and add dairy to the list of forbidden foods I've consumed today, and took us all to Mio Gelato. Since they had Stracciatella among the flavors, I was a very happy camper.
Lewis and Blair had to be responsible parents and get back to their kid, so Vahid, Tracy and I soldiered onward to The Boiler Room for karaoke. Tracy claimed to be able to sing, so we wanted her to put a microphone where her mouth is and prove it. She was first up as karaoke started... and proceeded to blow the doors off the joint by singing Linda Ronstadt's "You're No Good." Her performance made me pity everybody else in the room who had put a song in, and the guy who came after Tracy just stood there with the microphone in his hand saying "you expect me to follow that?!?
Having nothing left to prove, Tracy hit the road for her drive home, leaving Vahid and I to play video games at Ground Kontrol. Back in the day, I used to be pretty good at these classic games, but now I just suck ass. Games like "Donkey Kong" where I used to blow through levels in record time and set high scores totally owned my ass. I never made it past the first level.
Having totally failed at video games, we met up with one of Vahid's college buddies for one last beer at Bailey's Taproom.
All in all, a good night! Thanks to everybody who was kind enough to hang out with me.
UPDATE: Ooh! I forgot PDX has free wi-fi! Uploaded a photo montage of us.