As I had mentioned a couple times before, the small town where I live has a weekly anti-war protest in the center of town at the main intersection. It's usually just two or three people holding up signs with Bible scriptures and Jesus quotes promoting peace. The reaction from the locals here is not exactly pleasant.
Today one reaction was positively hostile.
As I was driving through downtown, I heard the moron two cars ahead of me revving the engine of his massive pick-up truck (stereotype much?) as he approached the protestors, heading straight at them. I guess the joke was supposed to be that he (or she!) was going to run them down on the sidewalk.
HA! HA! HA! HA!
Yeah, that's hysterical.
Because wanting peace is so stupid!
Apparently if you disagree with somebody, that give you the right to terrorize them?
I felt bad for the two ladies there, so I flashed them a peace-sign as I drove by...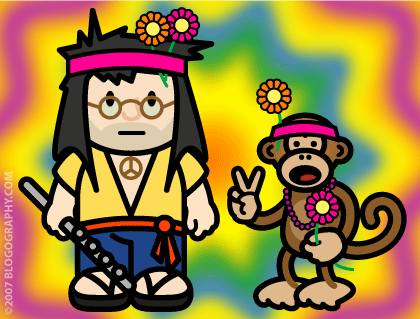 Bleh.
The credit card company finally unfrozed my account this afternoon so I could send the remainder of the orders I have stacked up. I got through 38 of them before the post office closed, leaving 27 for tomorrow.
After those are gone, there are about 30 orders left waiting for the missing "Monkey Button Ladies T-Shirt" to arrive. They were supposed to be here yesterday or today, but didn't show up. If they don't arrive tomorrow, I will send the orders out anyway and back-order the shirt until I get back from Davecago, Dave Louis, and Dave Lake City.
Oog. That reminds me... I need to pack.