Uhhhh... yeah... eleven hours to get to Chicago. That's got to be some kind of record. I could have flown to frickin' Tokyo in less time. But that's the travel game now-a-days. To get a decent fare on anything but a simple round-trip, you're going to be shuffled around the country for a while. It sucks, but it is what it is. And, as if that wasn't enough, I just found out that I am not leaving on Sunday morning after all, but Monday instead. If I had known that, I would have stayed downtown instead of at the airport. But it's not like I can complain... I'll take an extra day in Chicago, no problem.
Meanwhile, back at my finger...
For anybody who cares, here's the story of what happened.
Thursday was massively busy because it was my last day home for a while. I had orders to get out. Work to finish. Clothes to wash. A suitcase to pack. And lots of little details to finish up. One of those details was printing, cutting, and laminating the lanyards for Davecago 3 and Dave Louis. The printing is done on my faithful Canon i960 printer. The cutting is done with a surgically-sharp X-ACTO blade.
You can see where this is going.
It was 11:30 at night and I was running on no sleep. I was a little disoriented because I was still getting used to my new glasses. Exhausted and unable to judge distance properly, I somehow managed to cut out all but two pages of badges. And then it happened. I was holding the ruler with my left hand and my middle finger slipped out past the edge. So when I pulled that impossibly sharp X-ACTO blade across it, I had sliced off the tip of my finger before I had even realized it.
Once the stab of pain hit, I looked down and saw a chunk of skin on my X-ACTO blade. But it was blood-free. Lucky me... I had just sliced the skin off!!
Or so I thought. Then I looked down at the ruler where my finger was and saw blood pouring out over the table.
And I do mean pouring.
As in gushing...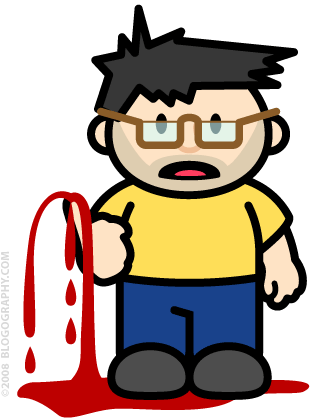 I ran to the bathroom to put a bandage on it. Which sounds easier than it actually is, because Band-Aid brand adhesive bandage strips are IMPOSSIBLE TO TEAR OPEN!! Especially one-handed. Meanwhile, my finger continues to gush blood into the sink. After finally opening the Band-Aid, I quickly find out that it won't stick to my mutilated finger. So I wrap it up in a wad of Kleenex and put pressure on it...
... then go back to finish cutting out the name badges.
Because I'm just that dedicated.
The Kleenex would get saturated after about 6 or 7 minutes, which means I'd have to stop and go replace it with a fresh wad of tissue. After five trips, I managed to finish cutting the last of the badges and get them laminated.
By then it was 1:00am and I'm deciding whether or not to go to the emergency room because the bleeding simply will not stop. Since I have to leave for the airport in four hours, I decided to try and get some sleep instead. So I wrap my finger in a massive ball of tissue, gauze, and Band-Aids... then tape a plastic bag around my hand and take a pain killer.
I manage to get a rough few hours of sleep until my alarm rings at 5:00. At which time I drag myself to the bathroom so I can unwrap the damage. Much to my surprise, the bleeding had stopped. Not wanting to disturb the clotting, I cut around it. I then squirt antibiotics on the mess and wrap it all up so I can head to the airport.
And now here I am in Chicago.
I finally managed to work up the courage to take a look at my finger and it's not as bad as I thought it would be. I've put photos in an extended entry so, if you're squeamish, you may want to skip the rest.
Now it's time to take some pills and get some sleep.
I hope.
Ewwww... gross!!
But also very cool. Isn't it nifty how the body can fix itself like this? Amazing...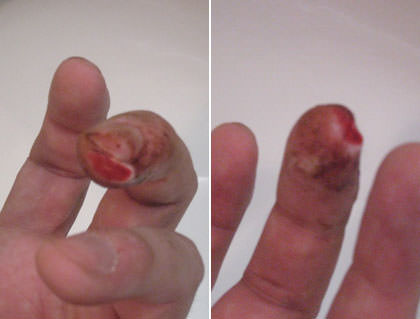 It's weird how I can cut myself and bleed everywhere and not freak out... but the sight of somebody else gushing blood makes me squeamish and want to die.
Good night.