Today I started yet another special diet with the hope that it will help doctors figure out what's wrong with me.
To say that I don't do well on diets is a massive understatement because I have become quite fond of eating whatever I want, whenever I want. Anything less than that is just depressing. And, of course, it's not like any of these diets ever consist of cheese pizza and chocolate pudding. That would be too easy. Instead I get the shitty diet with stuff that I eat only when forced (like now). Blargh.
This time I am forbidden from eating any refined sugars in addition to the deadly high fructose corn syrup that plagues our food supply. That right there cuts out 40% of my diet. Gluten and all wheat-type products? That's another 25%! Dairy products and eggs? Say goodbye to the remaining 35%! One of my favorite foods, Snack-Pack Pudding Spoonibbles (which comes with cookies you can use to eat the pudding with!), consists entirely of sugar, gluten, and dairy. The new trifecta of evil...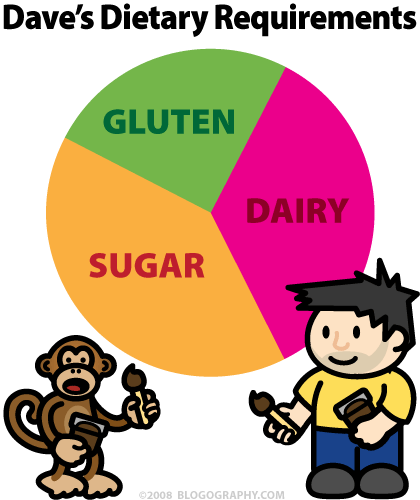 So what can I eat?
For a minute I was a little excited because I thought I could still have French fries and potato chips, but I'm not supposed to eat cooked vegetables either (apparently steamed is okay). With that in mind, I've made up a list of crap that I'm allowed (given that I don't eat meat)...
Fruit.
Raw Vegetables.
Rice & Rice Cakes.
100% Juice.
Nuts.
Water.
If I get creative, I can create things like "rice with soy cheese on steamed corn mash" or "natural peanut butter on rice cakes with apple slices" or even go crazy and have "lettuce salad with pear, raisins and Vinaigrette." But that's a lot of work, so I pretty much subsist on baby carrots, almonds, apples, pineapple slices, and juice.
And that's just wrong.
Humans were never meant to live this way.
Without cheese pizza and chocolate pudding, we are not men, but animals!
Animals who try to make French fries out of steamed potatoes and fail miserably!
I would so totally kill for a piece of toast with butter and strawberry jam right now...