I'm so tired that I'm falling asleep this Bullet Sunday. Here's hoping I can stay awake long enough to write something.
• Organizing Is Just This Easy. Every once in a while, something comes along that' so amazing that I don't know how I existed without it. The latest thing to rock my world? TripIt. This web-based service makes keeping track of your travel easy. You forward your email confirmations from airlines, hotels, car rentals, travel sites, and such, and TripIt miraculously organizes everything for you automatically. As if that wasn't enough, TripIt adds maps, driving directions, weather forecasts, and other cool stuff to help you plan your trip. But that's not all... TripIt also makes it easy to share and collaborate your travel plans with others, and creates an iCal subscription calendar plus a webfeed. I've been using the service for almost a year now, and find it invaluable. Even if you don't travel lots, all the extras make TripIt worth a look. Mostly because it's FREE! And right now they're running a promotion where you can sign up and be entered to win a new iPhone (prize available only if you live inside the US, but the service works everywhere). Highest recommendation...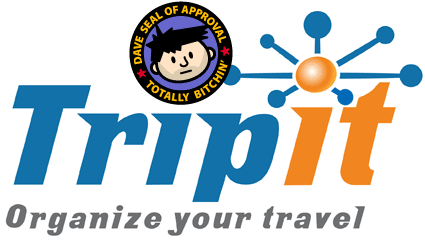 • If It's Loaded, We'll Shoot Ourselves With It. Proving once again that Microsoft just can't seem to make a good decision, they're paying Jerry Seinfeld TEN MILLION DOLLARS to appear in Windows commercials with Bill Gates. Apparently, copying Apple's MacOS isn't going far enough, and so now Microsoft wants to copy their "Mac vs. PC" ads as well. How this is going to convince people that Windows Vista doesn't suck ass is beyond me. I'd much rather they take the 300 million they're planning to spend on this "Windows Not Walls" disinformation campaign and actually make Windows a decent product. Seinfeld went off the air ten years ago... apparently Microsoft's advertising firm is still stuck there. I anticipate that the music will be performed by The Backstreet Boys.
• Take Them Out Of The Oven, They're Done. Why are they still making new stupid-ass "caveman" commercials for GEICO insurance? I never liked the ads, but at least they were fresh... at first. Now they've been run into the ground and are just fucking annoying. Wasn't the cancellation of the crappy "Cavemen" TV show spin-off enough of a clue? Helpful hint to GEICO: IT'S OVER!!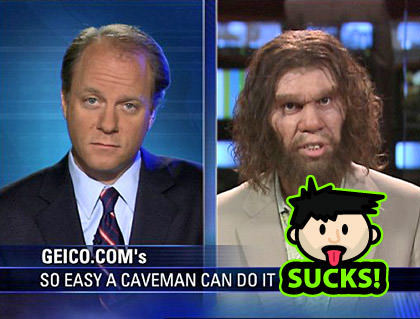 • Ultimate Cleansing Power. If John McCain truly does "approve the message" in his latest campaign ads, he's a fucking douchebag. And an idiot. Using Hillary Clinton's words against Obama now that Biden is on the ticket is inviting the exact same treatment when he picks his VP. The difference being that the ads could be so much worse against McCain because the footage available is so much juicier. I remember back to the viscous McCain/Romney debates and imagine that Obama's attack dogs are just salivating over the prospect of retaliation ads (assuming Romney gets the spot). Issues? What Issues? Politics at their finest.
The end. Kind of. There are some additional bullets with bitching about my recent Salt Lake City trip in an extended entry. If stuff like that interests you, by all means click through...
• We Define User-Hostile. Like most major cities, Salt Lake City has made strides in building good public transportation. This has resulted in their light rail system, adorably known as "TRAX." If you know what you're doing and are familiar with the system and the city, it's a great service that hits all the right places and is expending to serve even more. But if you're not familiar with the system, it sucks ass. Train lines are not coded by color or number or letter or anything else. The trains themselves are not uniquely identified in any way, they all look identical. Destinations or direction of travel are rarely even posted on the fucking trains! If you're lucky they'll be labeled on the front... if you're very lucky, they might even have a sign on the side of one of the cars... but don't count on it. Even the route maps they use are a mess. When all else fails, you can try to use a schedule to determine what train is arriving, but they're posted only at the extreme ends of the stations and don't make sense. Hell, half the stations don't even have fucking destinations on them! Where does this train go?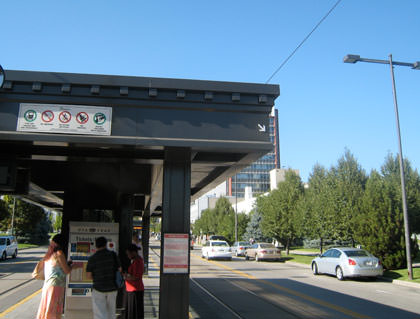 Who the fuck knows? There's an arrow there, but the destination is missing!
And just try to find out where the hell you are from looking at street signs. Assuming you can even find them. Here's what I saw when trying to figure out what the direction of travel might be...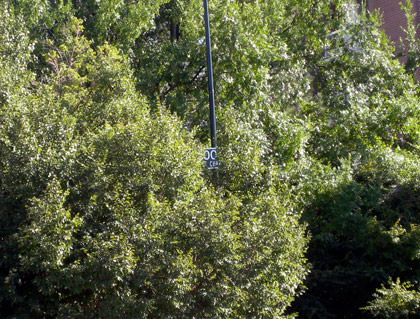 Yes, let's put the street sign in a tree! Brilliant! This means the ONLY way of identifying your location (since trains, stations, maps, and everything else FAIL) is to cut down a tree! Seriously, I travel a lot. Really a lot. Salt Lake City has the most hostile public transportation system of any city I've ever been in. This includes cities where the signs are all in foreign characters I can't read.
• We Gouge You Because We Care. It takes ten minutes to travel between Salt Lake City International Airport and downtown Salt Lake City. This is as close as it gets for an airport serving a major city, which would ordinarily be very cool. Except it's not. When I arrived, this quick trip was seventeen-fucking-dollars via taxi (not including tip). When I was going back to the airport this morning, the hotel used a private transportation company which was twenty-five-fucking-dollars. Contrast this with my previous airport trip from downtown St. Louis to the airport... a 35-minute trip for $30. I usually like taking taxis, but this is ridiculous. Salt Lake City must have the most expensive cabs in the universe! Eventually TRAX will extend out to the airport and, as much as I feel they need drastic improvement, I can't wait. Then the overcharging taxi bastards can go fuck themselves.
• When The Rules Don't Apply. As I was totally baffling a TSA agent with my boarding pass (the ticketing agent accidentally stapled them in the wrong order, and this was a point of major confusion), a woman goes flying by me, tossing her bags around and being in a hurry. Needless to say, she was selected for additional security screening (it only happens when you're in a hurry, it's designed that way). Now she's upset and pissed off that she might miss her flight. I try to muster some sympathy for her, but don't have any. Hopefully she'll learn that you can't show up 30 minutes before your flight and expect that everybody will just bow down before you so you can get to the gate on time... try showing up early like everybody else has to.
Well, that's enough bullets for the evening. Good night!