I've had exactly one week of vacation this year.
And, for the longest time, it seemed like that's all I was going to get. Because of the hideous cost of everything associated with travel, going on a personal vacation didn't make much sense. Can you really enjoy yourself if you're freaking out about how much everything costs all the time? Do you really want to drop a massive chunk of cash on something that could be used for less frivolous things? Like eating and paying rent?
So I decided to have a "staycation" and try to make the best of a vacation at home. Since I have to travel all the time, this came as kind of a relief. Not only would it save me some money, but the idea of not having to deal with airports, hotels, and all the other headaches would be a nice change of pace. Relaxing at home could be the best vacation of all.
Except that's a load of delusional crap.
I know full-well that if I were to stay home I would end up doing everything except relax. I'd work. I'd do chores. I'd run errands. I'd refinish my dining room table. There's positively no way I could relax and do nothing if I were at home.
So I bit the bullet and booked two weeks away from it all next month.
Because I know if I didn't, I would probably go crazy. Or, I guess I should say "more crazy," because all the non-stop work has pretty much put me there already. It may cost a fortune, but I need this so badly...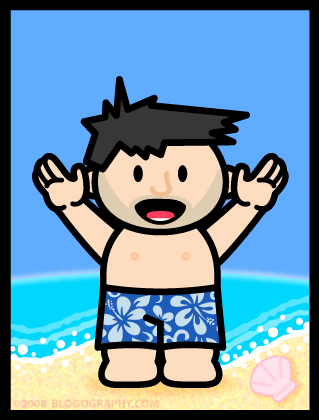 In other news, can I just say how much I admire Michael Phelps? Not because of his record-breaking eight gold medals in the Olympic Games, but because he has the courage to speak out about being bullied when he was growing up. He can be such an inspiration to kids who are relentlessly tortured every day just for being different, and I hope he continues to talk about it and raise awareness. I am in constant amazement at how cruel kids can be to each other, and if even one bullied child can see how Michael Phelps not only survived bullying... but excelled in spite of it... well, that may be the one thing they have to help them get through it. The alternative is just too horrible to contemplate.
Congratulations on your well-deserved success, Michael, I look forward to seeing what you do with it.