Believe it or not, I love kids. Apparently not enough to have any of my own, but I do like them quite a lot.
It's just the parents I hate.
Certainly not all of them, but most of them. Good parents who mind their kids in public I have no problem with. But so many modern-day parents are irresponsible assholes when it comes to their kids, and I've had enough. You can't go anywhere without being exposed to dumbasses who let their children run ape-shit because they're too busy talking on their mobile phone, reading a book, or flirting with somebody. They couldn't care less if their kids are terrorizing people, getting into trouble, breaking shit, or doing something dangerous. It may be their kids, but it's not their problem.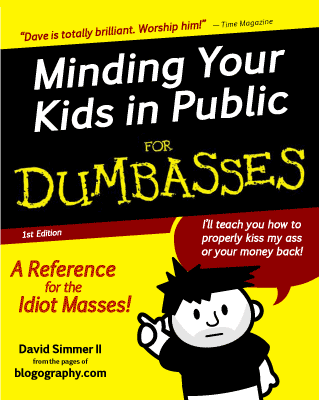 Here's just a small sampling of some of the things I documented on my trip...
When I was flying out on Wednesday, a kid was running around the airport parking lot while their father (I'm guessing) smoked a cigarette at the curb. Despite the fact that the kid very nearly got run over by a pick-up truck, the father never once said a word until he was done with his smoke. Does he want his child to die?
At the Seattle Airpot food court, a kid was throwing food on the floor. The mother occasionally told him to stop it, but never lifted a finger to make him stop it. Not surprisingly, neither parent bothered to pick up the food off the floor when they left.
While waiting for my flight to Salt Lake City, a woman who was tired of her kid hanging around while she was trying to read a magazine told him to "go look at the airplanes." Which he did. Except he also decided to slap the windows continuously, making a racket and leaving ugly smears all over them.
While shopping at The Gateway in SLC, I saw two young girls running around completely unsupervised. I have no idea where their parents were.
While eating lunch at a restaurant, a large family was seated behind me. One of the youngest of the five kids was pissed about something and screamed his head off the entire time. The parents just let him yell, making everybody's lunch miserable.
Back at my hotel room, a whole load of kids were running up and down the hallways screaming while the parents were chatting loudly down the hall. It was 10:30 at night.
While I was waiting for my connecting flight in Seattle, a kid was screaming his head off because he was lashed in a baby stroller with nothing to do. Either his parents were too stupid to bring a bottle and some toys, or they just didn't care, because they never did a damn thing about it... they just let it scream and scream and scream. I updated Twitter with "If your child is possessed by Satan, I don't think you should be able to take it on an airplane." But the kid wasn't possessed... he was just ignored.
Right now as I'm typing this, a young boy with his bottle is climbing up the luggage chute while I wait for my bag. His parents are too busy looking at the local hotel listings to notice, so I shout "be careful!" This catches the parents attention, so they grab the kid off the ramp and spank him... even though it was their fault he wandered off.
Kids are going to cry and misbehave, and I get that. I sympathize with parents who are exhausted and trying their best to manage their kids when they travel. But the operative word here is TRYING... and too many parents I see just aren't. From all appearances, they just don't give a shit. They don't care if their kids get into trouble or are in dangerous situations. They don't care that their kids are bugging the crap out of people. They don't care about anything. People like this should never have had kids in the first place.
If you have kids, you have to be responsible for them.
When your kid is screaming their head off in a store, theater, or restaurant, take them outside until they settle down so everybody doesn't have to suffer. When your kid is misbehaving, do something to stop it. When your kid is making a mess, clean up after them. When your kid is running around going ape-shit, get them under control. But, above all, WATCH YOUR FUCKING KIDS!! It's your fucking job... not everybody else's job to do it for you.
As I sit here wrapping up this entry, the same cute kid that was climbing up the luggage chute earlier is now having a great time with the automatic doors opening and closing as he runs through them. Cars are driving by just outside and I have no idea where his parents are at. I hope he doesn't die.